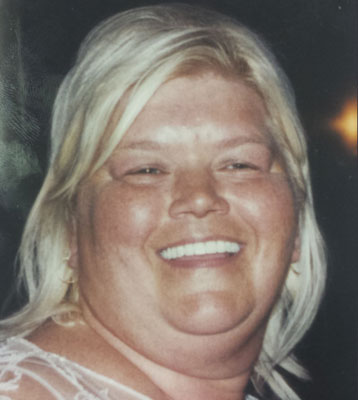 SONDRA L. HILBERT
YOUNGSTOWN - Sondra L. Hilbert passed away Thursday morning at Camelot Arms.
Sondra was born June 5, 1958, in Ann Arbor, Mich., a daughter of the late Carl and Gertrude (Kanitz) Seleska.
Sondra was a housekeeping supervisor and branch manager for Imperial Services.
Her husband, Randall J. Hilbert Jr. whom she married Feb. 25, 1978, passed away Dec. 31, 2012.
Sondra leaves her two sons, Randy J. Hilbert III and Cory Hilbert both of Austintown; two grandchildren, Alicia and Abigail Hilbert; a sister, Phyllis DeZarn Vienna; two brothers, Ronald Seleska of Milan, Mich. and Donald (Joyce) Seleska of Orange, Calif.; numerous nieces and nephews; and her mother-in-law, Brenda Hilbert of Canfield.
Sondra was also preceded in death by three sisters, Peggy Reid, Patsy Anders, and Janet Clark, and her father-in-law, Randall J. Hilbert Sr.
Family and friends may call Sunday from 2 to 4 p.m. at the Higgins-Reardon Funeral Homes, Austintown Chapel.
In lieu of flowers, material tributes may take the form of donations in care of the Higgins-Reardon Funeral Home to help assist the family during this time.
Guestbook Entries
"The Lord took you away from us so you could hear the angles sing, you were a loving women with a warm heart we shall miss you deeply Will always think of you. Love John & Ruth"
» Mr & Mrs John Jones on June 21, 2014
"Would like to offer our deepest condolences to the family at this very sad time..Sincerely Gary & Jan"
» Mr.&Mrs. Gary J. Pondillo on June 21, 2014
Sign the Guestbook
---