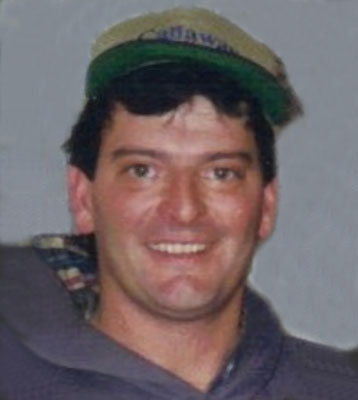 BRYAN KEITH HOLMES
BATON ROUGE, LA. – Bryan Keith Holmes, 52, formerly of Niles, passed away peacefully into eternal rest on Sunday, June 15, 2014, at Hospice Care Carpenter House in Baton Rouge, after a strong battle against pancreatic cancer.
He is survived by his loving wife, Karen (Kidd) Holmes and son, Mason Holmes of Louisiana; and  mother, Scotti (Adelene) Henderson of Warren,.
He was born May 28, 1962, at Clinch Valley Hospital in Richlands, Va., to Scotti (Adelene) Henderson and Dewey Holmes.  
Bryan grew up in Niles and graduated from Niles McKinley High School in 1980.  He was Red Dragon No. 81, split end and defensive back on the Varsity Squad.  He was also involved with track and hockey throughout his school years.
On Feb. 12, 1987, he married Karen Kidd.  Married 27 years, living and loving their lives together with their son, Mason Holmes.
Bryan's expertise was in oil refining.  He was employed at Veolia Water in Louisiana.  
Bryan was an avid fisherman, competing and winning in various monetary tournaments that included the waters of Australia, California, Texas and Louisiana. His specialty was bass fishing.  He was a member of fishing groups in Baton Rouge and New Orleans.  Bryan was also passionate about gardening, cooking, and football.  
Bryan was preceded in death by his father, Dewey Holmes of Oklahoma;  his brother, Scott Dale Holmes; his maternal grandparents, Ruth M. (Stein) and Winfield A. Scott of Niles;  his paternal grandparents, Marie and Dale Holmes of Oklahoma; and his uncles, Joel Scott, Jim Scott, and Jerry Scott.
Bryan, aka "Superman,"  will always be cherished and hold a forever place in the hearts of his sisters, Denise (Holmes) Doutt and Heidi (Henderson) Major, both of Niles.
Special family memories will also be carried on by his Aunt Ruth Davis of Warren, Aunt Karen and Uncle Bob Taylor of St. Louis, Aunt Nyla Richards of Austintown, Aunt Jean Scott of Niles, Uncle Winfield (Butch) and Aunt Thelma Jean Scott of Florida.
Bryan's request of cremation was honored on Tuesday, June 17, 2014.
Memorial contributions can be made to the Pancreatic Cancer Action Network.
"And I - in righteousness will see your face; when I awake, I will be satisfied with seeing your likeness."  Psalms 17 verse 15 
"He makes me lie down in green pastures,  He leads me beside quiet waters, He restores my soul."  Psalms 23  verses 2-3   
Guestbook Entries
Defensive Back
"Brian, it was great being on your team. I hope you save me a position in heaven! Dragons FOREVER!"
» Dragons # 31 on June 23, 2014
"HEY KAREN GIVE ME A CALL 409 5270961 I DONT KNOW IF YOU REMEMBER ME I WORKED WITH BRYAN IN CA. BACK IN THE 80s"
» CRAIG SMALL on June 3, 2015
"HEY KAREN GIVE ME A CALL 409 5270961 I DONT KNOW IF YOU REMEMBER ME I WORKED WITH BRYAN IN CA. BACK IN THE 80s"
» CRAIG SMALL on June 3, 2015
Sign the Guestbook
---