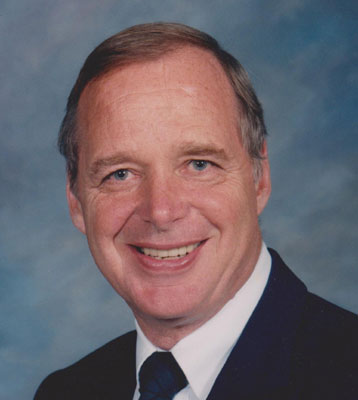 TIMOTHY C. MULHOLLAND
BOARDMAN - Mass of Christian burial will be held Tuesday, June 17, at 10 a.m. at St. Columba Cathedral to celebrate the life of Timothy C. Mulholland, 76. Surrounded by his family, Tim died peacefully at his home June 10, after a brief illness.
He was born Feb. 11, 1938, in Youngstown, the son of Eileen Elizabeth (Horan) and John Mulholland.
After graduating from Ursuline High School in 1956, Tim worked at United Engineering and Foundry and the U.S. Postal Service. He later earned his Property and Casualty Insurance License and designation as a Certified Insurance Counselor (CIC). In 1975, Tim founded the Mulholland Insurance Agency, faithfully serving his clients until he retired in 2007.
Tim was ever passionate about his community, serving numerous organizations in various capacities, far too many to list completely. He was a member of the Ancient Order of Hibernians and the Mahoning Valley Gaelic Society and was deeply involved in the Irish Culture. He founded the Irish Arts and Historical Society of Mahoning Valley and served as president of the Mahoning Valley St. Patrick's Day parade. Tim was a member and Grand Knight of the Knights of Columbus Youngstown Council 274, and Faithful Navigator of Bishop Malone Assembly 826. He served on a host of community-based boards and committees, including the Western Reserve Transit Authority and Community Corrections Board of Directors.
He was actively involved in the Democratic Party for many years, serving most recently on the Democrat Executive Committee. Tim held an Advanced Class Amateur Radio Operator license and enjoyed many outdoor activities.
Tim will be deeply missed by Barbara (Colonna) Mulholland, his high school sweetheart and devoted wife of 57 years; three daughters, Deborah (Colin) Pregibon of Findlay, Susan (J. Rick) Riechers of Bonita Springs, Fla., and Marianne (Larry) Saykes of Aurora; two sons, Timothy (Lauren) Mulholland of Deerfield, Ill., and Kevin (Jean) Mulholland of Houston; 15 grandchildren; and one great-grandson.
He was preceded in death by his parents and two sisters, Shirley Filisky and Francis "Babe" Pullium.
Tim's quick wit, humor, and unwavering loyalty in friendship were his trademarks. His love of wife and family was boundless.
Friends may call on Monday from 4 to 8 p.m. at the Higgins-Reardon Funeral Home, Boardman-Canfield Chapel and on Tuesday from 9 to 9:45 a.m. at St. Columba Cathedral.
Memorial contributions in memory of Tim may be made to the St. Vincent De Paul Dining Hall, 208 Front St., Youngstown, OH 44501.
Please visit www.higgins-reardon.com to view this obituary and send condolences.
Guestbook Entries
"To the Mulholland family, my deepest sympathies to you on Tim's passing.god bless you all! Dan Handel"
» Dan Handel on June 15, 2014
"Barb, we are so sorry. Tim was a devoted friend to Billy and our whole family. He was always there for us. A good and decent man. "
» Dottie HOlt on June 15, 2014
Cousin
"Barb and all my cousins in the Mulholland family you are in my prayers and I send positive energy as you exprience the next few days Celebrating the Gifts of Tim and the New Life he now lives. His Spirit will always be with us. Love and Peace to all of you. "
» Andrea A.M. Pernotto on June 15, 2014
"Barb and family. I am so sorry to hear of Tim's death. I will keep you all in my prayers. He will be greatly missed. "
» Ursula McLaughlin Lyons on June 15, 2014
"Barb and family. I am so sorry to hear of Tim's death. I will keep you all in my prayers. He will be greatly missed. "
» Ursula McLaughlin Lyons on June 15, 2014
Sign the Guestbook
---