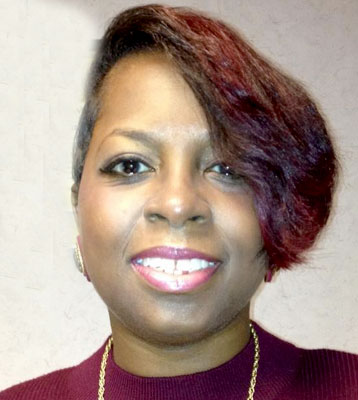 SHANA STUBBS
CHARLOTTE, N.C. - Services will be Wednesday, at 11 a.m., at the Victory Christian Center, for Mrs. Shana Stubbs, 41, formerly of Youngstown, who accepted the Lord's call and entered eternal rest June 9, 2014.
Shana was born May 2, 1973, in Youngstown, a daughter of T.J. and Annie Blisset Rushton.
A 1991 Salutatorian graduate of South High School, Shana also attended Youngstown State University. She worked several years with Delphi Packard Electric before moving to Charlotte. Shana enjoyed being a homemaker for her family. She was a former member of New Birth Charlotte, where she served on the Praise and Worship Team, and the Intercessory Ministry. She loved to sing, and especially loved her husband, children and her family.
She leaves to mourn her passing, but rejoice in her peace, her devoted and loving husband, Luther Stubbs IV, whom she married Aug. 17, 1996; her beloved children, Tyler James, Isaiah Anthony, and Indyah Mone't Stubbs, all of Charlotte; her siblings, Charlotte (Jimmie) Hooks of Toledo, Nelda (Michael) Sims of Maryland, Michael (Elaine) Rushton of Cleveland, David Rushton, Samuel (Janet) Rushton, Bryant (Gina) Rushton, and Shelisha Rushton, all of Columbus, Bruce (Fresha) Rushton of Delaware, T.J. (Jacqueline) Rushton, Verna King, and Dorothy Little, all of Michigan; and a host of nieces, nephews, other relatives and friends.
Her parents and a brother greeted her at Heaven's Gate with outstretched arms.
Friends may call Wednesday, from 10 to 11 a.m. at the church. Arrangements entrusted to L.E. Black, Phillips & Holden Funeral Home.
Guestbook Entries
"I'm sorry to hear of your loss. Our family will continue to keep you all in our prayers."
» Yolanda Eiland on June 15, 2014
Mrs
"Praying for you and your family. God Bless. "
» Stella McGowan on June 15, 2014
"My Heart goes out to the entire Rushton/Stubbs Family. Shana was truly a Sweet young and God loving young lady and someone I considered to also be my Sister/friend/Family.Shana will truly be missed but never ever forgotten. My thoughts and Prayers go out to the ENTIRE family. May God bring you all Comfort and Peace in this difficult time and just know that Shana is rejoicing with her Parents/brother and the Angels up in heaven. God bless you All!!!! "
» Anita Allen Hunt on June 15, 2014
God Has an Angel
"Thoughts and prayers from the Watkins family to the Rushton-Stubbs family. Much Love! We Love you Shana!!!"
» Gregory Watkins and Family on June 16, 2014
Nelda's co-worker
"To the entire family may the peace of God comfort your hearts during this time. Know that the prayers of many are reaching heaven and God Will do all that you need him to do. Shana was a strong witness and she has completed her work for the Lord. Let her life speak to your hearts and you will smile. God Bless you all! "
» Denise Thomas on June 16, 2014
"My heartfelt sympathy to The Rushton and Stubbs Family......May God be with you all in this hour of grief"
» Torrance Locke on June 16, 2014
"May the Lord bless you with strength, comfort and peace during this difficult time. Losing someone near and dear to your heart is very hard. But the good memories of our loved one will make us smile. I love all of you!"
» LaRonda Tyler on June 16, 2014
"My deepest sympathy to you and your family. As you mourn, stay ever mindful that Shana now stands where every believer longs to be -- in the presence of Jesus Christ, the Preeminent One! May God bless you and keep you all."
» R. White on June 16, 2014
"I'm giving my condolences to the Rushton-Stubbs family from the Jackson family. We will keep you all in our prayers, we love you guys & our sister will be missed deeply."
» Bruce Jackson on June 16, 2014
"Sending love prayers,and many blessings "
» Quiona, Raquel, & Rick Stubbs on June 16, 2014
"My prayers go out to all the family. May God be your comfort. "
» Tyheshia Shand (Shawn James) on June 16, 2014
former chuch member
"May she rest in peace and we will keep the family in prayer"
» Dyann Mitchell Byrd and Family on June 17, 2014
"Sooo sorry for your lost shana was truly an example of what a woman of god should be. Thank you shana for giving me that life example she will truly be missed "
» Yolanda Harris on June 18, 2014
"Sorry for your loss may God bless your family."
» Hammonds- Ingram Family on June 18, 2014
"Sorry for your loss, I am praying for you and your family. God Bless"
» Diana Page on June 18, 2014
"So sorry for Shana's passing. May Luther and his family be comforted by God. Love to you all."
» Rita Montgomery on June 18, 2014
"May God's peace be with you all. We will continue to keep you in our prayers. Love Marlon & DeShay Everett "
» Marlon & DeShay Everett on June 17, 2014
Sister in Christ
"Wishing you peace to bring comfort, courage to face the days ahead and loving memories to forever hold in your hearts. "
» Tina Jackson-Grissett & Destiny International Dance Ministry on June 18, 2014
"I will truly miss her! Praying for you and the family!"
» Angela Yancey on June 19, 2014
Prayer Warrior
"I will truly miss my cousin Shana, we here in Detroit, Michigan are praying for our Entire Families Rushton's and Stubbs Family. "
» Angeliner(Apple) Timmons on June 19, 2014
Sign the Guestbook
---