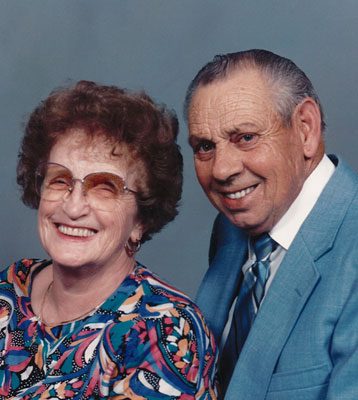 HARRIET E. BEST
"Together forever"
YOUNGSTOWN - Harriet E. Best, 91, died Thursday afternoon, June 12, 2014, at her home.
Mrs. Best was born Aug. 15, 1922, in Struthers, a daughter of James and Marietta Laughlin Hanlon.
She was a 1939 graduate of Struthers High School and attended Youngstown College, taking secretarial classes. Mrs. Best worked as a waitress for Gray's Drugstore, Morgan's Wonderboy, and Berendt's Restaurant, and retired from the Hasti House at the age of 70.
She was a member of the Faith Community Church. In her spare time, she enjoyed bowling and was a member of the YWBA, bowling frequently at the Bowladrome and Holiday Bowl in Struthers. She also enjoyed playing cards, belonging to various clubs throughout the years, watching the Cleveland Indians and NFL football, especially cheering for the Pittsburgh Steelers. More than anything, she loved surrounding herself around family and spending time with them.
Her husband, Norman W. Best, whom she married June 20, 1942, died Aug. 16, 1995.
She is survived by her daughter, Harriet Elizabeth "Sissy" (Kenneth) Norris of Youngstown; five sons, Norman W. (Barbara) Best Jr. of Killeen, Texas, David E. (Kathy Futey) Best of Ellsworth Township, James T. (Patty) Best of Forest Grove, Mont., Paul O. (Trisha) Best of San Antonio, Texas, and Robert L. Best of Youngstown; three sisters, Betty Bates of Canfield, Dorothy (William) Walters of Campbell, and Donna (George) Janis of Cornersburg; 24 grandchildren, Sherry, Norman, Richard, Michael, Shelli Ellen, David, Amanda Jay, James, Delores, Cassie, Jerua, Charity, Paul, Trisha, Missy, Dennis, Melinda, Shannon, Robbie, Brian, Becky, Woody, Joshua, and Nicole; and numerous great-grandchildren and great-great grandchildren.
In addition to her parents and husband, she was preceded in death by a son, Dennis R. Best; two daughters-in-law, Patti Sue Best and Mary Ellen Best; three sisters, Mary Bricker, Rose Roby, and Josephine Hanlon; seven brothers, James, Jack, George, Bill, Bob, Raymond, and Charles Hanlon; grandson, Robert L. Best Jr.; and an infant great-great granddaughter.
A funeral service will be held Tuesday at 11 a.m. at the Davidson-Becker Funeral Home, 11 Spring St., Struthers. Interment will follow at Lake Park Cemetery.
Family and friends will be received Monday from 5 to 7 p.m. and Tuesday from 10 to 10:45 a.m. at the funeral home.
Please visit www.beckerobits.com to send condolences.
Guestbook Entries
"My prayers are with all of Harriet's family and friends."
» kim hollenbaugh palmer on June 15, 2014
"Dave and family, Sorry to hear of the passing of your mother. I lost mine two years ago and I know the void it leaves in your life. Take comfort in the fact that she is now at peace. Deepest sympathies, Dennis and Audrey Ingram"
» Dennis Ingram on June 15, 2014
"Missing you already grandma. Thank you for the love you gave me and all the unforgettable memories. "
» Little Norman Best on June 15, 2014
"Sissy my sympathies to you. She was a great person and great bowling partner I ever had"
» Joan Minchin on June 15, 2014
"Dave and family, Momma will be missed by all,but,papa is happy now,he has his beloveded with him again,and I`m so proud to have known and loved them both as we love all the "BEST FAMILY", Love you all, Butchie and Patty"
» Chuck & Patty Adams, on June 15, 2014
"Robbie, sorry to see your Mom has passed. She was my first boss at Berndts Restaurant. Always a smiling and energetic person who could get the job done. May she rest in peace."
» Larry Miglets on June 15, 2014
"To Dave & Family, We are so sorry for your loss,and I know PaPa was waiting for Momma when she got to heavens door,she is at peace and where she wanted to be,with the love of her life.God bless you all and may you all find peace, Butchy and Patty"
» Butch & Patty Adams on June 15, 2014
"Jim,Patty & Best family', So sorry in the loss of your Mom.Our sympathy to all."
» Joan ,Ron & The Leonard's on June 16, 2014
"Sorry for the loss of your mom. I met her at Hampton woods when she sat with my mom at the dining room table. My mom, Flora, and your mom became friends an went to activities together. Your mom always looked out for my mom. I enjoyed many conversations with Harriet and will miss talking to her. A great lady! Laure Johnson and Flora Konya "
» Laurecxy on June 17, 2014
Sign the Guestbook
---