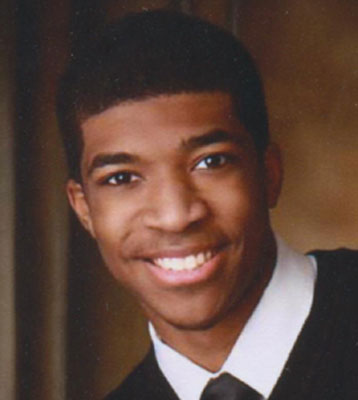 AARON MOSES MAHDEE
YOUNGSTOWN - Services will be 11 a.m. Tuesday, June 17, 2014, at the Rising Star Baptist Church for Mr. Aaron M. Mahdee, 20, who departed this life June 9, 2014.
Mr. Mahdee was born Oct. 29, 1993, in Youngstown, a son of Moses Omar Mahdee and Aadrian Yancey.
He graduated in 2012 from Hubbard High School, where he was a member of the Spanish Club and the Show Choir. He was currently attending YSU. He was a member of the Rising Star Baptist Church, where he participated in the Youth, Drama and Choir Ministries. He loved music and spending time with his family.
He leaves to cherish his memory his mother and stepfather, Stacey and Aadrian Yancey-Thomas; his father and stepmother, Moses Omar and Gabriella Mahdee; three sisters, Mariah Mahdee of Boardman, Stashanna Thomas of Youngstown and Stacia Thomas of Tupelo, Miss.; three brothers, Omar Mahdee of Boardman, Aisaiah and Stacey Thomas of Youngstown; grandparents Ruth "Penny" Yancey of Youngstown, Roy (Marie) Yancey of Warren, Betty Thomas, Moses H. and Itlean Mahdee; great-grandparents Anna R. Pittman and Florence Johnson, all of Youngstown; aunts and uncles Anissa Yancey, Seleana Mahdee, Shariyah Mahdee, Linda Spivey all of Youngstown, Tiffany Pete (Pennsylvania), Shasheka Reed (Indiana); Nakeyma (Cherry) Mahdee, Jermaine Thomas, Dewayne Thomas all of Youngstown. Kevin (Johnetta) Spivey (Georgia), Sebron Spivey (Ohio); a girlfriend, Melany Stephens of Girard; and a host of cousins, other relatives and friends.
He was preceded in death by his great-grandparents, James and Lorine Yancey, Ruth Woodall , Moses Johnson Sr. and Roscoe Pittman; and an uncle, Marvin Thomas.
Friends may call one hour to the services, from 10 to 11 a.m., at the church. Arrangements were entrusted to L.E. Black, Phillips and Holden Funeral Home.
Guestbook Entries
MINISTER
" WEEPING MAY ENDURE FOR A NIGHT BUT JOY COMES IN THE MORNING. MY PRAYERS ARE WITH YOU."
» CARDIE TILLERY-MCKINNEY on June 15, 2014
"May God comfort all of you . Our sincere condolences from the Averhart family."
» Constance Averhart on June 15, 2014
"Dear Roy & Penny, I am so sorry to hear of Aaron passing. May God comfort you in your time of sorrow."
» Cynthia Young on June 15, 2014
"We are so very sorry for loss. Prayers are being sent from Louisiana! May God be with you all!!!"
» Tina and Mikie Morgan on June 16, 2014
"Aaron was a wonderful young man. It was very easy to see the care he felt for others. We are praying for God's continued strength and peace for your family."
» Walter&Michelle Brown on June 17, 2014
"I will miss you, Aaron!My thoughts and prayers are with the entire family!"
» Angela Yancey on June 19, 2014
Sign the Guestbook
---