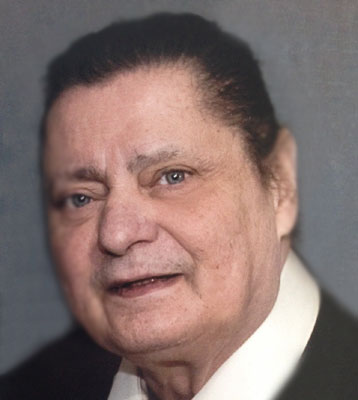 DENNIS MICHAEL SESONSKY SR
NILES - Heaven just got a little LOUDER. Dennis Michael Sesonsky Sr. passed away on Monday, July 21, 2014, at the age of 65, after a long battle with cirrhosis of the liver.
A proud lifelong resident of the Mahoning Valley, Dennis was born in Youngstown on Dec. 23, 1948, as the only child to Michael and Sophie (Kutlick) Sesonsky.
He was a 1965 graduate of Chaney High School, where he played golf, an interest he acquired as a youth and enjoyed throughout his entire life. He could often be found on the golf course with his friends, who contest he was one of the best golfers they know. In addition to playing golf, Dennis loved to fish. For him, it wasn't so much the catch as the serenity of the process. Later in his life, he enjoyed watching his favorite TV programs, "Family Guy," "The Simpsons," "Let's Make a Deal," and "The Price is Right," from his comfy recliner and keeping in contact daily with his closest friends.
He retired from General Motors in 2011, after 34 years of service. As a GM employee, he worked on the line in the trim department of the truck plant, and then as an alternate committee man for the UAW 1112. He spent 11 years serving as a UAW representative for the Transitional Work Center (TWC) with his dear friend, Tommy Davis. He then finished his career in the final process department.
Dennis is best known for his contributions to the Youngstown music scene. He began his music career at age 16, with the Pied Pipers, convinced he could do what Elvis did, but better. His wide vocal range and on-stage persona made him a hot commodity among local bands. He spent a short time with the band Citation before hitting the club scene with Holy Mackerel, and then in 1971, he finally found his calling as the front man of LEFT END.
He led Left End through the production of three albums, Spoiled Rotten, 1973, Ridin' Again, 1980, Live, Living and Breathing, 1989, and numerous singles, Sunshine Girl, Bad Talking Lady, Molly Brown, End of my Rope, and Cyclone Rider, just to name a few.
It was his unparalleled creativity that mesmerized audiences. Whether fans were waiting to see his elaborate changes, his unpredictable stage antics, or to meet Dennis's newest creation, he was always pushing the limits to maintain the audience's undivided attention.
In 1973, Dennis created his alter ego, "Dennis T. Menass," a dark, charismatic wildman who led crowds of thousands to a world of Rock-n-Roll, filled with fire-raising and chaos. Menass relentlessly urged concert goers to walk the walk of true 70's Rock-n-Rollers.
In 1989, at the live recording of "Live, Living and Breathing" at the Park Inn in Austintown, Dennis coined the endearing term "Hog Head" as the word of the night, a term that ended up inspiring lyrics to a song and will be remembered forever by Left End fans.
His powerful vocals, outrageous stage presence and original lyrics combined to create his reputation as an entertainer extraordinaire. He lived up to his character, bringing energy to the band that only he could provide. He kept fans begging for more for over 30 years, always prompting the audience to let him know, "Are there any rockin' rollers out there tonight?"
As a member of Left End, Dennis shared the stage with a number of great musicians including The Eagles, Fog Hat, Cheap Trick, J. Geils Band, The Parliament, The New York Dolls, Alice Cooper, Uriah Heep, Ted Nugent, Eddie Money, Bachman Turner Overdrive and ZZ Top. Left End's success earned them features in Rolling Stone, Billboard and other national magazines, as well as a spot in the Rock-n-Roll Hall of Fame's Ohio musicians exhibit.
Contrary to the reputation that Dennis T. Menass made for himself as a hard-nose who radiated confidence and carved his own path, Dennis Michael Sesonsky was a loving, generous man, who was dedicated to his family and friends. A man of great faith, he enjoyed the simple things in life, and always found the good in people. "Rock on Brother!"
Dennis is survived by his wife, Darla (Miller) Giancola; his children, Tasha (James) Stanton of Kent, Tara C. Sesonsky of Dallas, Dennis Michael Sesonsky Jr. of Poland; grandchildren Kalie Stanton, Mackenzie Stanton, Nathan Stanton; and stepson Jonathan Giancola of Niles.
Calling hours will be Friday, July 25, 2014, from 4 to 8 p.m. at the Holeton-Yuhasz Funeral Home in Niles. A Mass of Christian Burial will be Saturday, July 26, 2014, at 10 a.m. at Our Lady of Mt. Carmel Church. The Rev. John-Michael Lavelle will be the celebrant.
Prior to the church service Saturday, there will be a prayer service at 9:15 a.m. at the funeral home, by Pastor George E. Miller Jr., his brother-in-law.
Burial will be in Kerr Cemetery.
The family requests that donations be made to Hospice of the Valley, 5190 Market St., Youngstown, OH 44512, in lieu of flowers.
Visit www.holetonyuhasz.com to view this tribute and send condolences.
Guestbook Entries
Great
"Brother you were the greatest and we will miss that crazy shit you did bro. REST IN PEACE NO WAIT ROCK THAT PLACE."
» Chazz Everly on June 23, 2019
"As a fan of Left End in the 70's, this band was great. Equal to Aerosmith in my opinion.Dennis was the true spirit of rock and roll. Forever grateful for entertainment he gave us fans. RIP."
» Left End fan on July 23, 2014
"I'm very sorry for your loss. I had the pleasure of working with Dennis at our local 1112. He always had a smile on his face. A very nice person who will be missed by all who knew him. "
» Gladys Kissinger on July 23, 2014
"From the spring things at idora to the icehouse on a Saturday night you were one of a kind. God bless your family in this time of sorrow."
» Dave Colabine on July 22, 2014
"Peace Brother!"
» Jim Connor on July 23, 2014
""Had the pleasure of working with Dennis at GM & we become good UAW Brothers. I know that Albert & the boys will be meeting at the gate, make sure Albert makes good contact".... Hit them straight as you always do" Till we all me again Brother keep Rockin""
» Jim Devlin on July 23, 2014
Retired
"Dennis I remember you living up the road from my family when I was a very young kid. Then growing up playing music in the Y-Town area opening up for Left End shows. I was young then. All my life I followed your awesome voice as others have, a great musician and a totally awesome person who loved his friends and fans and most his family. You will be forever missed, Your voice will be forever living on. My condolences to the family, friends and fans.R.I.P. my musician brother. God has a angel that will sing forever."
» Steve Hamerik on July 23, 2014
ironmike303
"God bless you and all your family.I loved Left End and play your albums all the time.At my daughters wedding we danced to BAD-TALKIN-LADY.My children who never had the priviledge of seeing you perform love to listen to your music.God love ya and keep on rockin"
» Mike Lewis on July 23, 2014
ironmike303
"God bless you and all your family.I loved Left End and play your albums all the time.At my daughters wedding we danced to BAD-TALKIN-LADY.My children who never had the priviledge of seeing you perform love to listen to your music.God love ya and keep on rockin"
» Mike Lewis on July 23, 2014
"cleveland was never more fun when the boys were back in town. you'll be deeply missed by all."
» steve from cleveland on July 23, 2014
fan since 74 idora
"God is great for giving you to us, I will always remember, little talks with you, after shows about band advice,so down to earth thank you man"
» Joe Zebosky on July 26, 2014
"There is so much I could say about my cousin, I was a great follower of his band over my years of growing up, he was always so sweet to me, and I still remember bringing him soup and dinner when he lived by me on the Southside, I love you Dennis and I know I will see you again, May God's Peace Be Yours Now, Love You Forever, Your Cousin Nanci"
» Cousin Nanci on July 23, 2014
Shipping
"There will never be another band in this area like Left End. The area will always remember Dennis as there will never another like Dennis. My heart goes out to the family!!!!! Rock On Dennis!!!!"
» Bass Man on July 23, 2014
"A true Rocker....he will be missed."
» Gail on July 23, 2014
fan since 74 idora
"God is great for giving you to us, I will always remember, little talks with you, after shows about band advice,so down to earth thank you man"
» Joe Zebosky on July 26, 2014
"I LOVED Left End and Dennis was amazing! I recall being in Magnum and opening for them one night at the Y-Town Agora! Miss the music."
» Darcy on July 24, 2014
"Good Bless Ya You were and always be the best(RIP)"
» Jim on July 24, 2014
The Host Of The North Coast
"May God go with him & we all now have an extra guardian angel to watch over us."
» Peanuts on July 25, 2014
The Host Of The North Coast
"May God go with him & we all now have an extra guardian angel to watch over us."
» Peanuts on July 25, 2014
fan since 74 idora
"God is great for giving you to us, I will always remember, little talks with you, after shows about band advice,so down to earth thank you man"
» Joe Zebosky on July 25, 2014
a fan
"many memories from younger days. all good. god speed."
» annette on July 25, 2014
Pipers fan
"I knew Dennis from the Pipers. My heart goes out to the family and friends. May you find comfort in all the memories Dennis provided for so many people. Heaven got a little louder and a lot brighter!"
» Lynne on July 26, 2014
"God Bless the family and friends of Dennis.So many good times I had with you and Left End. Heaven will be rockin !"
» Joe Gedeon in LA on July 26, 2014
"Dennis rest in peace. I knew you in such your career as in Leftend as a teenager then I married a coworker of yours at GM which you golf with which we have many years together of fun too. Then you had years of playing music with my uncle opening for you. Love all the years of music and enjoying knowing you RIP you will be missed by all"
» Cindy on July 26, 2014
"the memories of Dennis and the boys playing at The Apartment on Midloathian is burned into my mind as clearly as the music on my Left End albums and tapes. thank you for being my favorite singer and band growing up. i'll never ever figure out why the band didn't break nationally in a big way."
» Muzzy Sartori on July 29, 2014
"my cousin roy played bass and i rememer going to the tommarow club every saturday and listening to the band on the side of the stage dennis was a legend a will be sadly missed in this area his vocals and his dedication to music made him one of the best rock voices he will be missed by many"
» sam on September 12, 2014
Sign the Guestbook
---