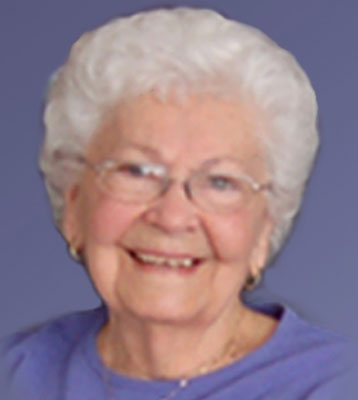 ALICE HABUDA BORT
COLUMBIANA -  A celebratory luncheon will be held from 1 to 3 p.m. on Saturday, July 12, at the Maronite Center in honor of Alice Habuda Bort, who passed away at her home on July 7, surrounded by her family.
She was born in Youngstown on Feb. 22, 1924, to Mary and Joseph Habuda. After marrying Myron Bort on Oct. 2, 1943, they moved to his family's farm in Columbiana, where she spent the remainder of her life.
She is survived by four children, Myron (Barbara) Bort Jr., Richard (Ann) Bort, Alice (John) Rzonsa, and Suzanne (Edward) Gray; 14 grandchildren; 28 great-grandchildren; a large extended family; and her best friend, Rose Bort Lindquist.
Alice was preceded in death by her parents; her husband, Myron, to whom she was married for 59 years; brothers Ted, Arnold, Frankie, and Joe; and her beloved big sister, Helen.
Many years ago, her children wrote this poem for their remarkable mother, who was loved by all:
A shy, quiet woman watches unfold, the traits of the infant she carefully holds.
She nurtures and coddles, but never demands, she nudges, yet offers a steadying hand.
Her children must choose their very own paths, must tackle the world just out of her grasp.
A natural mentor, she prepares them with pride, instills her own values to linger inside.
She's shown her compassion, unselfish regard, loving all others no matter how hard.
She wonders and questions if she's done it right, with staid resolution, not rancor or spite.
Has she taught them the lessons she knows they must know, to ensure that in life they will reap what they sow?
Not money or grandeur, not baubles and rings, will they call to themselves the intangible things?
Friendship and family, nature and faith, to cherish each moment knowing life's not a race.
Her wisdom imparted in uncanny ways, will it help to sustain them in laughter and pain?
With silent attention the magic takes place, her ideals have been gleaned with no prodding or haste.
She watches in wonder as they have all grown into loving adults she can claim as her own.
The riches they've gathered are those she had wished, caring and giving are high on their lists.
While wife, mom, and grandma are how she's been measured, infinite kindness is truly her treasure.
All those whom she touches know they've been blessed, having encountered God's work at its best.
This shy, quiet woman has lived her life well. What wonders await her? It's too soon to tell.
A simple homemaker who loved the simple life, Alice has left an indelible mark on the hearts of not only her family and friends, but also on countless others she met while volunteering in hospitals and orphanages around the world. 
 In lieu of flowers, the family requests that a tree or perennial be planted in her memory.  Monetary donations may be sent to Hospice of the Valley, 5190 Market St., Boardman, OH 44512, whose care was extraordinary during the last months of her life.
The Seederly-Mong & Beck Funeral Home in Columbiana has been entrusted with the arrangements.
Family and friends are invited to visit www.seederly-mongandbeck.com to sign the guest book or send private condolences.
Guestbook Entries
just a vindy reader
"What a beautiful tribute to your mom.. Sorry for your loss"
» Joyce on July 10, 2014
"Beautiful poem, for what must have been a beautiful person. Treasure your memories. My sincerest condolences."
» habitual reader on July 11, 2014
"A beautiful poem, for what must have been a beautiful person. Treasure your memories. My most sincere condolences."
» Janet (a habitual reader) on July 11, 2014
Sign the Guestbook
---