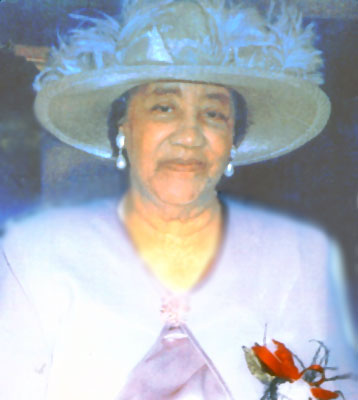 HATTIE LUELLA MAXWELL
YOUNGSTOWN – Hattie Luella Maxwell, 96, of 172 W. Warren Ave., departed this life Wednesday, Jan. 22, 2014, at 6:20 p.m. at the Hospice House, following a brief illness.
She was born Nov. 4, 1917, in Greenville, S.C., the daughter of Napoleon and Lillian Donald Rogers, coming to the area in 1942.
Mrs. Maxwell was a devoted homemaker, owner of Maxwell Escort Service from 1976 to 1983, transporting senior citizens and worked at the Ravenna Arsenal.
She was a member of the New Bethel Baptist Church, the NAACP, and the Southern Poverty Law Center. She was a 1935 graduate of Sterling High School.
She married Lee O. Maxwell in 1936, and he died in 1985.
She leaves to mourn two sons, William Maxwell of Youngstown and Wayne (Brenda) Maxwell of Nashville, Tenn.; four daughters, Apostle Patricia Harris of Boardman, Mrs. Lillian (Michael) Bannarn and Deaconess Pauline (Mark) Lott, both of Liberty Township and Mrs. Dorothy Moore of Austintown; 22 grandchildren; 25 great-grandchildren; and a host of relatives and friends.
She was preceded in death by one daughter, Leoda Maxwell; two sons, Lee O. Maxwell Jr. and Grady Maxwell; one foster son, Clyde Hudson; one brother, Raymond Rogers; and two sisters, Mrs. Gladys Tarpley and Mrs. Sarah Talley.
Funeral services will be held Friday, Jan. 31, 2014, at 11 a.m. at the New Bethel Baptist Church.
Calling hours will be held from 10 to 11 a.m., one hour prior to service.
Burial will be at Tod Homestead Cemetery.
The family will receive friends at 172 West Warren Avenue.
Professional arrangements of comfort were handled by the Sterling-McCullough Williams Youngstown Funeral Home.
Guestbook Entries
"To the family,my prayers are with you. Your mom was a beautiful person. "
» Alice Smith on January 28, 2014
"Grandma I miss you more than words can explain. Rest in Peace. I love you!"
» Brittany Lott on January 28, 2014
"Grandma you will forever be in my heart. I love and miss u so much. Rest in Peace"
» Latika Maxwell on January 28, 2014
"Continued Prayers to Latika and Family.May she R.I.P."
» Derc Montgomery on January 28, 2014
The Family
"Lee 3rd nd Lee 4th Im sorry for your loss, May the lord comfort you all at this difficult time,Praying for the family."
» Jackii Hubbard-Edwards on January 29, 2014
"We send our prayers to all the Maxwell's family. She was a true blessing to Martin-Boykin family. Kansas"
» Lynn and Keith Boykin on January 30, 2014
Victims' Advocate
"Mrs. Maxwell You was one heck of a lady, whom I adored so much it was such a joy to have you as a neighbor, friend, and to call grandma. RIP lovely lady. Love Brenda"
» Queen B on January 30, 2014
"To the Maxwell Family we our so sorry for your loss. May God comfort you all. Your family is in our prayers..."
» Mr.& Mrs. Richard Burley and Family on January 30, 2014
"Our Deepest sympathy. The May Family"
» Byotha Carol Thomas on January 31, 2014
"May you have comfort in knowing others care and are praying for you. There is no sorrow Heaven can not heal.May God continue to comfort you. love Myrtis and Jackie Boudrey "
» Myrtis Boudrey Thornton on February 2, 2014
Sign the Guestbook
---