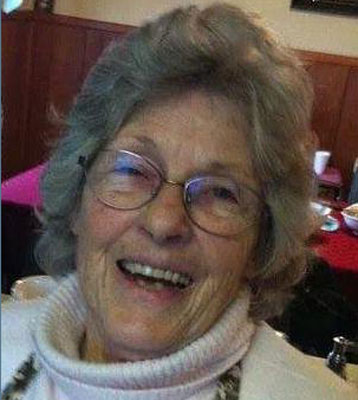 ORPHA ANN FREDENBURG
VIENNA TOWNSHIP – Orpha Ann Fredenburg, 82, died at 6:10 p.m. on Sunday, Jan. 19, 2014, after a short battle with cancer at St. Joseph's Health Center in Warren,. 
She was born on Jan. 26, 1931, the daughter of the late William and Genevieve (O'Brien) Brow in Lake Leelanau, Mich.
Orpha served our country in the U.S. Army during the Korean War and had worked at the Pentagon as a Cryptologist. She met her future husband James L. Fredenburg whom she would marry on Sept. 12, 1953, while in the kitchen at the base where they were stationed together.
Mrs. Fredenburg was an avid gardener and known for her famous apple pies, jams, and jellies that she loved making.  Above all else, she was a devoted mom, grandma, and great-grandma to her family throughout her life.
She survived by her beloved husband of 60 years, James L. Fredenburg; her sons, Mark (Belia) Fredenburg of Houston, Michael (Donna) Fredenburg of Bartlesville, Okla., Jaime (Marilyn) Fredenburg of Hartford, and Joel Fredenburg of Masury; and her daughters, Elaine Donaldson of Champion, Carrie (Ray) Barnes of North Jackson, Paula (Jeff) Goodman of Hudson, Rosalie (Tim Fabian) Fredenburg of Fowler and Mary Steen of Hermitage, Pa.; her sisters, Annette Przybysz, Mary Macallum and Bernadette Derusha; her brothers, Elmer Brow, Richard Brow and Michael Brow; her son-in-law, James Nigro of Watervliet, Mich.;  36 grandchildren; and 15 great-grandchildren also survive.
She was preceded in death by her parents,  William and Genevieve Brow; her daughter, Lee Ann Nigro; brother, Donald Brow; sisters, Ellen Kennedy, Kathleen Quill.
Friends may call from 4 to 7 p.m. on Wednesday, Jan. 22, 2014, at the Lane Family Funeral Homes, Madasz Chapel. A rosary service will be held beginning at 6:30 p.m.
A Requium Mass will be held on Thursday morning beginning at 11 a.m. at Queen of the Holy Rosary in Vienna, with Father Joseph Orlowski F.S.S.P.  officiating.   A reciting of the rosary will begin at 10:30 a.m. prior to the start of the Mass.   Friends are asked to meet directly at the church after 10 a.m. on Thursday.
Internment will take place at Crown Hill Burial Park.
As an expression of sympathy the family requests that any contributions be made to the Queen of the Holy Rosary Catholic Church, 291 Scoville Drive, Vienna, OH 44473.
Friends may visit www.lanefuneralhomes.com to view this obituary and to send condolences.
Guestbook Entries
"Your family is in our prayers and thoughts. Please let your memories of the wonderful, selfless lady carry you through your mourning process. Godspeed"
» Jerry and Sally Steen on January 21, 2014
Sign the Guestbook
---