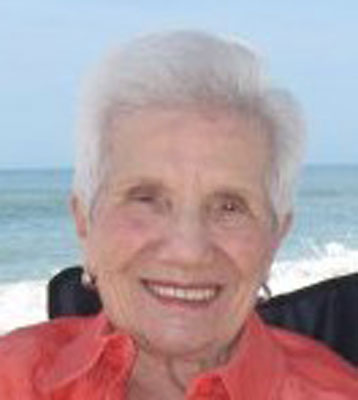 MORPHIA BAXTER
BOARDMAN – Funeral services will be held on Wednesday at 10 a.m. at St. John Greek Orthodox Church for Morphia Baxter, 92, who passed away Saturday at the home of her daughter.
Morphia Baxter was born on Dec. 11, 1921, in Youngstown, the daughter of the late Peter and Katherine (Delardes) Cummings.
Morphia graduated from South High in 1939 and went to the Youngstown School of Business. She worked as a secretary for the Youngstown City School District.
Morphia was a member of St. John's Greek Orthodox Church and of the Lake Milton's Boat Club.
She will be greatly missed by many, including her daughter, Catherine (James) Santangelo of Boardman; her two sons, Chris (Charlotte) Baxter of Franklin, Pa. and Paul Baxter of Santa Monica, Calif.; eight grandchildren; and four great-grandchildren.
She was preceded in death by her parents; husband, Sam Baxter; her sister, Joan Dusckas; and her two brothers, Nick and Spero Cummings.
The family will receive friends from 4 to 7 p.m. today, Jan. 21, at the Vaschak-Kirila Funeral Home, where a trisagion service will held be at 6 p.m. Friends will also be received on Wednesday from 9:30 to 10 a.m. at St. John Greek Orthodox Church. Interment will follow at Belmont Cemetery.
In lieu of flowers, the family requests that contributions be made to Hospice of the Valley, 5190 Market St. in Boardman.
Please visit www.vaschak-kirilafh.com to view this obituary or to send condolences to the family.
Guestbook Entries
"Cathy and Family, I am so sorry for your loss. A beautiful person got her wings. May she find peace and comfort. Shirley McGraw Draper"
» Shirley McGraw Draper on January 21, 2014
"Dear Cathy and Jim and family wish we could be their with you but as you know are thoughts and prayers are with you."
» Nick and Phil Tiberio on January 21, 2014
"Cathy, Chris and Paul, I am very sorry for your loss. Your mother was a wonderful lady. Michael Alexee"
» Michael Alexee on January 21, 2014
"Dear Cathy,Jim & Family,Our thoughts and prayers are with you and your family.Remember loved ones never leave.They are forever near.Their love lives on in memories.Del&Gene Fl."
» Del&Gene on January 23, 2014
Sign the Guestbook
---