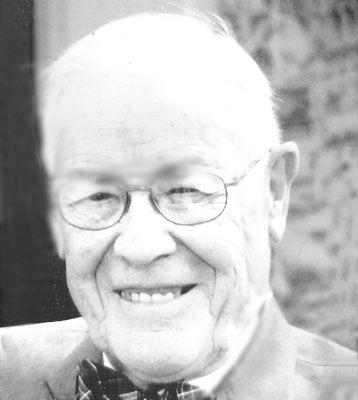 JOHN REED CLARK
NORTH BEAVER TOWNSHIP – John Reed Clark passed away quietly Jan. 18, 2014, at his home, "his beloved Barn."
He was born at his family farm on Dec. 2, 1923, and was the son of George Reed and Nina (Fullerton) Clark.
He was a kind, quiet and gentle man, but a born leader. He served as a class president for several of his high school classes and was the Senior Class Salutatorian.
He proudly served his country during World War II. He was acting First Sergeant with the U.S. Army in the Philippines. He came home and took over the management of his family farm. John had been a Dairy Farmer, a Beef Farmer, then went on to grow Spider Plants and Mums.
He was an active member of the Westfield Presbyterian Church, where he served as a Trustee for several terms. He was a member of the National Milking Shorthorn Association, where he also served as President. He was a Past Bessemer Rotarian, a Westfield Grange member and the Pennsylvania Farmers Assoc. member.
John enjoyed traveling with his wife, Dori and meeting new people on their trips. He had a natural gift for being very able to meet someone and find mutual acquaintances back home, no matter where they were. He loved sports, including horse racing. He raised horses for a short time and loved seeing the colts running in the pasture. He was an avid tennis, baseball and basketball player in his youth, but mostly enjoyed hearing the successes and talents of his grandchildren.
When he turned 60, John started the mammoth project of remodeling his masterpiece, "The Barn," where he and Dori lived for the last 30 years. It showcased his many talents of engineering, architecture, mathematics and design.
John was predeceased by his parents; his first wife, Mary Simons Clark on Nov. 17, 1969; and second wife, Doris Teby Book Clark on Jan. 2 of this year.
He was also preceded in death by his sisters, Eleanor Clark Jenkins and Marian Clark Mulford; and brother, Clarence Clark.
John is survived by his son, Rev. Dr. David Reed (Beth) Clark and his daughter, Anne (Tom) Kephart, both of New Castle, Pa.
He also leaves four stepchildren, Pam (Larry) Macaluso of Charlotte, N.C., Jim (Lorraine) Book and Janis (Carl) Ezzo, both of New Castle and Diane (John) Davis.
He also leaves a cherished legacy of 21 grandchildren and 11 grandspouses; 15 great-grandchildren; and several nieces and nephews.
A celebration of life service will be held on Saturday, Jan. 25, with guests being received from 9 a.m. until the 11 a.m. memorial service at the Westfield Church under the guidance of the Rev. Paul Votaw.
In lieu of flowers, donations may be made to the Westfield Church, American Heart Assoc. or Hospice of the Valley.
Services are under the care of the Terry A. Cunningham Funeral Home.
Guestbook Entries
"Dear Ones, Our hearts and prayers are with you, as you say good-bye for now to a dear father and grandfather."
» Sue and Jim Craig on January 21, 2014
"Diane and John, our heartfelt sympathy for the passing of not only your Stepfather but also your Mother. Know that you are in our prayers."
» Mark and Karen Sfara on January 22, 2014
Sign the Guestbook
---