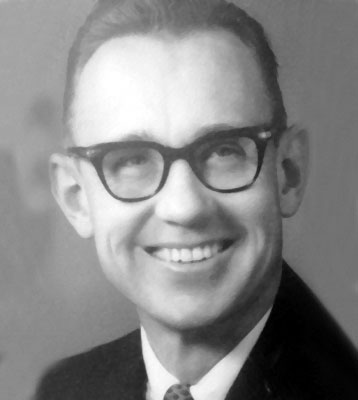 WILLIAM 'BILL' LISLE SPENCER
YOUNGSTOWN – Youngstown lost a great civic leader when William "Bill" Lisle Spencer, 91, died Jan. 9, 2014, at his home, with his daughter and son-in-law at his side, after a short illness.
Bill, son of Lisle and Emma (Swope) Spencer, was born Dec. 15, 1922, and was a lifelong resident of Youngstown.
He was a graduate of The Rayen School, The Phillip Exeter Academy, received his B.S. degree from the University of Pennsylvania's Wharton School of Finance, and his Law degree from the University of Michigan School of Law.
He served his country during World War II as a 2nd Lieutenant under Gen. George Patton in Czechoslovakia and in Japan. Upon retuning from his service, he joined his father, Lisle A. Spencer, working side by side for the Equitable Life Assurance Company.
He met the love of his life, Mary Margaret Monroe on a blind date in 1949. They married on June 2, 1951, and were blessed with 62 years of marriage. They have one daughter, Susan.
During his lifetime, Bill was passionate about improving life in Youngstown. To that end, he was very involved civically, including being past president of the Youngstown Public Library for 30 years, past president of the Youngstown Area Chamber of Commerce, member of the Board of Directors of the local Boy Scouts of America Chapter, a long time member of the board and past president of the YMCA, past president of the Mahoning Valley Cancer Society, member of the American, Ohio and Mahoning County Bar Associations, a member of the Board of Directors of People's Bank of Youngstown, member of the Board of Trustees of the Youngstown Educational Foundation, as well as a member of the Finance Committee of the Trinity United Methodist Church. He was also past president of the Association of Advanced Underwriters.
In 2013, he was awarded Trustee Emeritus status from the Youngstown State University Foundation after 46 years of service. He and his wife, Margaret, also established the William L. and Margaret M. Spencer Scholarship in Engineering, Mathematics and the Sciences endowment in their names at Youngstown State University.
Bill was also passionate about golfing, and never missed an opportunity to play. He was well known at Youngstown Country Club, winning many golf tournaments there, but also played for many years to Fiddlesticks Country Club in Ft. Myers, Fla., where they had a winter home. He was also an avid swimmer and prided himself that well into his 80s he swam 25 laps three times a week at the YMCA.
He was devoted to his wife, Peggy, until her recent death in December. He was also preceded in death by his parents; great-grandson, Carter; and his beloved dogs, Sam, Samantha, and Bingo.
He is survived by his daughter, Susan Spencer Briney (James); two granddaughters, Holly Costello and Autumn Helmick Johnson (Sean); six great-grandchildren, Logen, Lilie, Trinity, Owen, Emma and Grace, and another great-grandson is set to arrive in April; and his dog, Dixie.
The family wishes to thank Home Instead and the magnificent care provided by their staff, especially Leeanne Wade, Christine Stewart, Derria Williams, Karen Fisher and Brenda Walters. Also, the exceptional Team T from Hospice of the Valley, Beth, Lori, Tammy, Kim, Jay and Dennis, "you did so much for all of us. Thank You seems inadequate."
Viewing hours will be from 2 to 4 p.m. and 6 to 8 p.m. at the Shriver-Allison-Courtley-Weller-King Funeral Home in Youngstown, 292 Madison Ave. in Youngstown on Tuesday, Jan. 14, with funeral services to be Wednesday, Jan. 15, at 11 a.m. at the funeral home. Cemetery services will follow at Forest Lawn Cemetery in Boardman. A luncheon will follow the committal ceremony at the Youngstown Country Club.
Guestbook Entries
"Daddy..........you taught me so much, but there were still so many things I wnated to learn. I love you."
» Susan on January 17, 2014
Granddaughter
"Miss you more and more everyday! Xoxo"
» Hollie on January 20, 2014
Sign the Guestbook
---