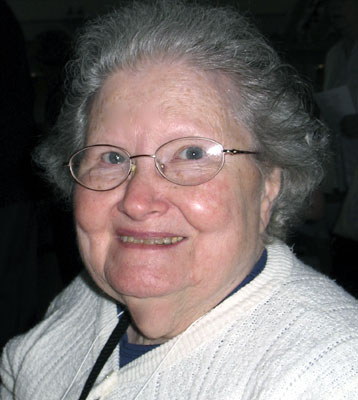 MARIANNE M. SPEICHER
YOUNGSTOWN – Marianne M. Speicher, 84, passed away at her home in the Park Vista retirement community early on Saturday, Jan. 4, 2014, after a two-month period of illness. She spent 10 days in intensive care at St. Elizabeth Health Center at the end of December. On New Year's Day she made the decision to transfer to hospice care at her home. She was surrounded by loving family members and friends through the holidays and until her death.
Mrs. Speicher was born on May 3, 1929, in Chicago, where her father, Clemmy O. Miller, taught biochemistry at the University of Chicago. Marianne inherited a love of music and art from her mother, Sara Beahm Miller.
She studied violin and piano from an early age, and took the "L," Chicago's elevated train, by herself to her lessons and to visit the Art Institute of Chicago. After high school in Milwaukee, she attended Carleton College in Minnesota and graduated in 1950 with a B.A. in Music History.
Following her graduation, she enrolled at the Katharine Gibbs School in Chicago and completed a one year secretarial training program. In Chicago, she worked as secretary for the General Secretary of Rotary International. She boarded at the Church of the Brethren Bethany Biblical Seminary, and met her future husband, Richard D. Speicher, there. On March 15, 1952, the couple married and moved to Kokomo, Ind., where Richard served as pastor of the Kokomo Church of the Brethren. Three of their children were born in Kokomo. In 1960, the couple accepted Rev. Speicher's call to pastor the Woodworth Church of the Brethren in Youngstown. Their youngest daughter was born in Youngstown.
Marianne was a partner in ministry in many ways, most notably as a musician, singing, playing piano, organ, and guitar, and directing adult and children's choirs. She and her husband served as camp counselors at Camp Inspiration Hills in Northern Ohio. In 1968, they brought home one of their campers, Gary Denver Young, who was from the local orphanage in Wooster. They raised him as a foster son throughout his high school years.
As her children grew older, Mrs. Speicher returned to paid employment, directing area church choirs and serving as secretary to the Trinity United Methodist Church in Youngstown. In 1981, she moved to a position as secretary/financial secretary to the Youngstown District United Methodist Church, and worked there until her retirement in 1991. She continued as organist and choir director of the Woodworth Church of the Brethren until her death.
Mrs. Speicher held a variety of volunteer positions with the local and district church and with community organizations. She was an active member of the American Guild of Organists, serving as Secretary from 1982 to 1994, and as Treasurer after that. She served two full terms as Secretary of the Board of Directors for the Mahoning Valley Association of Churches. From 2004 to 2007, she was a Church of the Brethren delegate to the National Council of Churches of Christ Governing Board.
Richard Speicher passed away Dec. 22, 2009.
Marianne Speicher is remembered with love by her children, Timothy of Sinking Spring, Pa., Anna of Elgin, Ill., Ellen of Youngstown, and Sara of Warton, U.K.; by her four grandchildren, Nathan, Everett, Jackson, and David; and by her daughter and sons-in-law, Jill, Paul, and James.
A memorial service celebrating her life will be held at the Woodworth Church of the Brethren, 30 E. Western Reserve Road, Poland, OH 44514, on Friday, Jan. 17, at 7 p.m., with visitation from 5 to 6:30 p.m.
Contributions, in lieu of flowers, may be made in her name to the Woodworth Church.
Arrangements are being made by the Seederly-Mong and Beck Funeral Home in North Lima, and you may visit www.seederly-mongandbeck.com to post expressions of sympathy.
Guestbook Entries
« Be the first to sign MARIANNE M. SPEICHER guestbook.
---