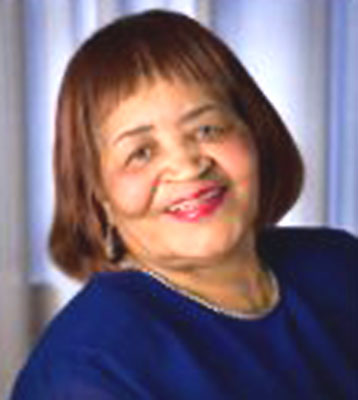 ELEANOR FELDER
YOUNGSTOWN – Services will be held on Friday, Jan. 17, 2014, at 11 a.m. at the New Bethel Baptist Church for Pastor Eleanor Felder, 79, who answered the call of the Lord to come home and take her rest on Monday, Jan. 6, 2014, at Cleveland Clinic.
Pastor Felder was born Aug. 24, 1934, in Montgomery, Ala., a daughter of Joe and Lelia Mae Pickett Boyd and relocated to the Mahoning Valley as a child. She was also blessed to have been nurtured by her mother's second husband, the late Will Johnson.
Pastor Felder accepted the call into the ministry after a fulfilling career as an educator. A lifelong learner and committed to personal development, she was furthering her education pursuits as a scholar at the C. L. Lane Bible Institute in Transfer, Pa.
In 1981, she retired from the Youngstown City School District and became the pastor of the Holy Bible Church of God. During her pastorate, she established an outreach ministry for women, "God's Kitchen," which is a full service dining establishment, an after-school tutorial programming and a host of other vital services to residents within the inner core of the city.
Pastor Felder was active with ACTION and was one of its founders, serving as its President from 2005 to 2007. She was honored as the 2007 recipient of the Frances Kerpsack ACTION Community Service Award.
She was the first executive president of the Interdenominational Clergy Women Alliance and had also served as president of the Interdenominational Ministerial Alliance. Pastor Felder held the distinction of being the first female to have been elected to serve to this IMA office. She was former past vice president of the League of Women Voters and served on the Juvenile Justice Center Citizen's Advisory Board, and the central committee of the Citizens for Public Service. Committed to the work of social justice and community empowerment, she continued to support the efforts of the NAACP Youngstown Branch, and was a nominee for the Youngstown Warren Chamber of Commerce's prestigious Athena Award.
Pastor Felder attributed her pastoral leadership style to the influences of the late Rev. W. A. Clark, the late Rev. Elizabeth Powell and community activist, Rev. Lonnie K. A. Simon. She accepted her calling into ministry on April 20, 1980, and was licensed into the gospel ministry on Oct. 18, 1982, by the Holy Bible's founding pastor, the late Rev. Emma Hopkins. The mantle of this ministry was placed upon Pastor Felder and she was subsequently ordained to fulfill the pastoral office at the Holy Bible Church of God on Nov. 21, 1983, by the late Rev. Lonnie Simon.
Pastor Felder was a former board member of the Mahoning Valley Association of Churches, former participant of the Interdenominational Clergy Dialogue, past board member and community coordinator of the NAACP, and former host of a weekly live radio broadcast ministry. Among her many awards and citations, she was the recipient of the YWCA Outstanding Clergy Woman and a proclamation from Nassau County Executive's Thomas S. Gulutta.
Pastor Felder and her husband, Joe were blessed with 10 children, Sheila Conley, Tanya (Rev. Ellis IV) Payne, Ronald Lewis, Dorothy (Rev. Lewis) Macklin, Joe Felder Jr., Marlene Felder, James Felder and Joan Felder, all of Youngstown, Anthony (Barbara) Conley of Stockton, Calif., and Stephon Felder of Cleveland; a myriad of grandchildren and great-grandchildren; sisters, Joetta Ross of Oklahoma City, Phyllis (James) Liggens, Mary Lou Venable, and Addie Fitzgerald, all of Youngstown, Joyce Boyd and Magalois (Supt. Preston), May, both of Warren, Mattie Anderson of Dallas, Ga. and Alberta (Horace) Hodges of Stockton; brothers, Jesse and Eddie Boyd, both of Youngstown; a sister-in-law, Delores Boyd of Youngstown; and a host of family, church family and friends.
Besides her parents and stepfather, she was preceded in death by her husband, Deacon Joe B. Felder Sr., whom she married Feb. 28, 1964 and who passed away Sept. 19, 2007; and brother, Willie J. Boyd.
Visitation hours will be held on Thursday, Jan. 16, 2014, from 5 to 7 p.m. and on Friday from 10:30 to 11 a.m. at the church.
Arrangements are entrusted to the L.E. Black, Phillips & Holden Funeral Home.
Guestbook Entries
With Deepest Sympathy
"How sad we were to hear of the passing of your mother. I pray for comfort in your loss and the knowledge that she will always live on in the loving memories that you will carry with you forever. "
» The Dupree Family on January 12, 2014
"Our community has loss a very influential leader. On behalf of the Motton family, we also loss a very special woman who blessed us with her spirtual leadership and love. No words can show how much of a honor it is to have personally known Pastor Felder. Let it be known, our family understand your loss, praying for strength and comfort. God's love is the greatest gift of all. Pastor Felder will not be forgotten by many, especially not by the Motton family. May her soul rest in heaven."
» Phillip Motton on January 12, 2014
"We are praying for comfort during this time. A great soldier for God has gone on to claim her reward. I have personal comforting memories of "Aunt Eleanor" from World Fellowship Interdenominational Church. Singing in the choir and many years of programs and gatherings. A time of reflection of the positive she represented and her steadfastness for serving the Lord. May the memories be of comfort."
» Richard & Arneta Montgomery on January 12, 2014
Son
"To my mother...I love you now,tomorrow, and for always. You were my rock when I needed one. On May 26,1986 you became my ANGEL. GOD has never sent one so special. I thank you so much. We have lost a mother but, God has gained an ANGEL. Momma I will miss you and I am glad that you are now with Daddy and God. "
» Ronald E. Lewis on January 12, 2014
"May God bless your family during this time of bereavement. She was a great leader and powerful woman. The Felder family will be in our thoughts and prayers. "
» The Smith Family on January 12, 2014
"Deepest Sympathy to the family. "
» Crystal Southerland Parkman on January 13, 2014
Albany, Ga.
"May God be with you all during your time of bereavement. Mrs. Felder was a wonderful lady. She will be deeply missed. "
» Chithea Summers-Robinson on January 13, 2014
"My sympathy goes out to the felder family. May God Bless!"
» Kim Sharper on January 13, 2014
"My sympathy goes out to the felder family. May God Bless!"
» Kim Sharper on January 13, 2014
"My prayers are with you all during this time of loss. I truly understand the impact of losing a mother, but also, understand that the Lord makes no mistakes and needed them more. While there is sadness, there is also comfort and joy, in knowing that they lived their lives in service to the Lord, and have earned their heavenly crown. They will forever be a part of us, through their love, guidance, and spiritual leadership. Love to you all. Linda Booker"
» Linda Anglin Booker on January 14, 2014
We love you, Holy Bible
"With deepest sympathy,, we are so sorry for your loss. We truly loved Pastor Felder and she will be forever missed, but,we know she has another job to do in heaven! we love you! "
» The Hollinger and Brown Familes on January 16, 2014
We love you, Holy Bible
"With deepest sympathy,, we are so sorry for your loss. We truly loved Pastor Felder and she will be forever missed, but,we know she has another job to do in heaven! we love you! "
» The Hollinger and Brown Familes on January 16, 2014
My Deepest Condolences
"I knew the Felder Family from my childhood on Willis. I was shocked to hear of her Home-Going she helped me greatly a couple years ago when my Uncle Neal was in the nusing home her prayers helped us all...A beautiful woman inside and out. To all of her loved ones I send my heartfelt condolences. Thinking of you all hugs."
» Carolyn M. Baker Jones on January 22, 2014
Sign the Guestbook
---