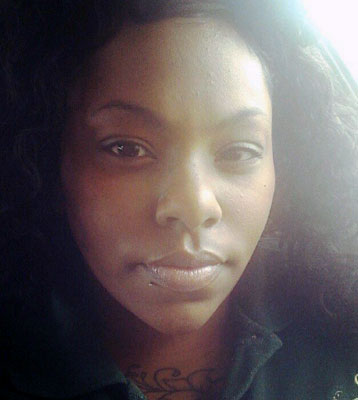 LASHEA CLARICE PARKER
YOUNGSTOWN – LaShea Clarice Parker, 26, departed this life suddenly Tuesday, Dec. 31, 2013, at her residence.
She was born Sept. 2, 1987, in Youngstown, the daughter of David R. and Emma Smith Parker.
Ms. Parker was employed with Shepherd of the Valley as a care provider for four years.
She attended El Shaddai Dominion Ministries, also fellowshipped at the Mt. Calvary Pentecostal Church and enjoyed styling hair and spending time with her family.
She was a 2006 graduate of Cardinal Mooney High School, where she was on the track team and flag line. She was interested in Nursing, attending the University of Akron and presently Youngstown State University.
She leaves to mourn, four daughters, Miss Shaelynn Shuler, Trinity Shuler, Zoriah Shuler and Gabrielle Parker, all of Youngstown; her parents, David and Emma Parker of Youngstown; six brothers, David Perry, William Perry, Stephen Burrough, Jerry (Nicole) Perry, Terry Perry and Ryan Parker, all of Youngstown; and a host of relatives and friends.
She was preceded in death by her grandparents, Elie and Beatrice Parker and James and Bernice Smith; two aunts, Addie D. Williams and Joanne Beulah; and one uncle, Mark Smith.
Funeral services will be held Friday, Jan. 10, 2014, at noon at El Shaddie Dominion Ministries.
Calling hours will be held one hour prior to service, from 11 a.m. to noon. Burial will take place at Belmont Park Cemetery.
Arrangements of comfort were handled by the Sterling-McCullough Williams Youngstown Funeral Home.
Guestbook Entries
"LaShea we miss your beautiful smile and spirit. God be with your beautiful ggirls and your family. Watch over them and us from your throne in heaven."
» Annette Toro on January 8, 2014
"LaShea you were a beautiful person inside and out. You had an amazing personality and you were such a loving and amazing mother. You will truly be missed. God Bless your 4 beautiful daughters and your family, and keep watching over them from above. Rest In Heaven baby girl. "
» Keyondra Evans on January 8, 2014
"Rest in heaven auntie. We love you and miss you dearly. You will forever be in our hearts and on our minds. The girls are ok. We will be sure to help them always remember you and how much you loved them. Watch over grandma and grandpa for me. Keep an eye on your brothers to they are having a hard time with this. Lay on our hearts to remind us to lean on each other. We love you."
» Cra-Terra Perry on January 8, 2014
"LaShae I will miss you so much! You were such a beautiful person. When we first met at autumn hills, u helped me out so much and I thank u for that. You were a great mother as well. I love u and may u rest in peace <3"
» Kayshia Douglass on January 8, 2014
"I will miss u i was just thinking about all the times we had at work.You were such a good person rest in peace. I no your in a better place. Watch over your family and those girls "
» Alona Simmons on January 8, 2014
"LaShea you came into our family about eight years ago and became my niece. From that point on you were always my niece and knew you could call me at any time and I would help you out and do whatever I could for you and the girls. I love them very much and will always remember you in my heart. It hurts so bad, I wish this time you would have called but God made his call instead. R.I.H. and now that I will do all I can to stay in their lives and be the best aunt ever. "
» Lovella Harmon on January 8, 2014
"hey girlie I know your in a better place and looking down and seeing how many people you had a influence on well I want you to rest in heaven now and just watch over your children I will always remember the days and nites that you stayed at my house and made me laugh so now you can rest now and remember you will be missed but not forgotten "
» Tawana Pettway on January 9, 2014
"Lashea, we all miss you so very much at work. That big smile,the twinkle in your eyes, seeing you give great care to our residents, the funny stories you would tell about your 4 little girls,listening to you talking about god to anyone that wanted to worship,you listening to Christian music on the radio on Sundays,an most of all you just being you! To your whole entire family my deepest sympathy. Our thoughts an prayers are with you at this sad time. R.I.P. Lashea"
» lisa stinellis on January 9, 2014
"Extending our deepest sympathy, May the Lord comfort you all at this time , in our prayers nd thoughts..The Hubbards-Edwards Family.."
» Jackii Hubbard-Edwards on January 9, 2014
"LaShea so many words not enough space....I just can't grasp what has happened........even though we haven't seen each either in awhile I will never forget the beautiful times we spent growing up and all the memories we carried from girl scouts....you are a beautiful kind soul and I pray that you rest in peace and may God be with your family and your wonderful girls ....I will miss you dearly <3"
» Kayla on January 9, 2014
"LaShea was received back in the arms of God to soon, but I know she was received warmly, cause she left an imprint on the lives of many and gave life to four precious little girls. I was honored to have had her on my flagline at Cardinal Mooney. I have spoke to many other young ladies that I've coaches since then, about the wonderful group of girls I had at Mooney and the many moments I shared with them. LaShea had a smile that could light up a room and giggle that was contagious. She gave me such fond memories that I will hold in my heart, but what I will miss the most, is when she'd still see me out in public after she graduated and call me mama. She will always be in my prayers and I send my most sincere condolences to her wonderful parents, siblings, family, friends and pray for angels to always watch over and protect her four babies. God Bless! Love Forever, Phemie Colonna"
» Phemie Colonna on January 10, 2014
"I pray for your family to have peace. "
» Adena on January 10, 2014
"my heart goes out to cousin~LaShea ~ especially her four little girls, mom, dad, an brothers an family, along with my prayers an thoughts, in this very sorrowful time. Lord keep on strengthening an comforting the family day by day. Much Love The Morgan Family!"
» Doreen Morgan on January 10, 2014
We worked together and was my dearest friend
"LaShea I will miss u dearly and my heart goes out to your little girls. I will miss you so much "
» Debbie Lyons on January 14, 2014
Sign the Guestbook
---