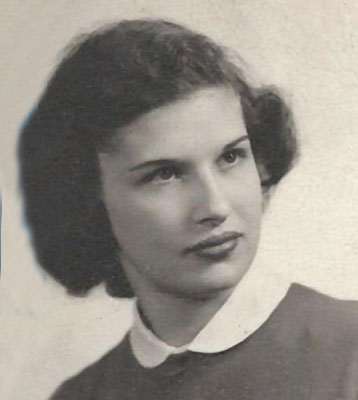 PHYLLIS J. LARSON
HUBBARD – Phyllis J. Larson, 78, died Tuesday afternoon, Dec. 31, 2013, at her home.
She was born April 6, 1935, in Hubbard, a daughter of George A. and Nina Jane Huff Hetrick and was a lifelong Hubbard resident.
Mrs. Larson was a teacher for the Hubbard Public School District for 15 years, retiring in 1993. She was a 1953 graduate of Brookfield High School and attended Youngstown State University. Phyllis was a member of the Friends of The Mayflower Western Reserve Colony, the Hubbard Historical Society and the Alexander-Crawford Maine Historical Society. She enjoyed traveling, spending her summers in Maine, antiques, canning, cooking and genealogy.
She leaves her husband, Robert T. Larson, whom she married June 11, 1953; a son, Mark (Carol) Larson of Pittsburgh; two daughters, Sam Larson (Jim Dearing) of East Lansing, Mich. and Phyllis "Fifi" (Robert) Hahn of Hartford; four grandchildren, Amanda Beebe, PFC Robert (Brittany) Johnson, Spike Dearing and Joey Jane Dearing.
She was preceded in death by her parents; a son, Robert P. Larson; and a brother, George Hetrick.
Family and friends may call on Friday from 6 to 8 p.m. at the Kelley-Robb-Cummins Funeral Home and also one hour prior to the services from 10 to 11 a.m. at the funeral home.
Funeral services will be held on Saturday at 11 a.m. at the Kelley-Robb-Cummins Funeral Home.
Interment will be at Maple Grove Cemetery.
Please visit www.krcummins.com to view this obituary and to send condolences to the family.
Guestbook Entries
"We will miss you Love from your Maine Family "
» Sandra Hall on January 2, 2014
BHS Classmate
"Prayers are with your family"
» Lora Davis on January 2, 2014
Old neighbor
"I am SO sorry to hear of Phyllis's passing. I am in shock. I don't know how I am going to tell my brother. Much LOVE to all the family. I Pray that God gives you the strength to get through this difficult time."
» Cindy (Hamilton) Sallmen on January 2, 2014
"My condolences to the entire family. "
» Donna Rae Hetrick on January 2, 2014
"We are so sorry for your loss. She was an amazing person and friend. She will be missed. Love and hugs, Annette and Andrew Toke III"
» Annette Toke on January 3, 2014
Sign the Guestbook
---