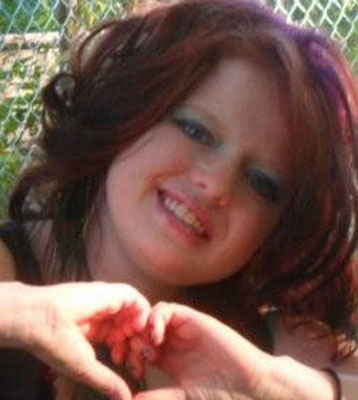 KRISTA-TAYLOR MCARDLE-BROWN
POLAND – Services will be held Friday evening at 7 p.m. at the Clemente Funeral Home in Struthers for Krista-Taylor McArdle-Brown, 19, who died at Children's Hospital in Pittsburgh on Sunday.
Krista was born Jan. 20, 1994, in Pittsburgh, the daughter of Miranda McArdle of Poland.
Krista was a generous soul whose smile radiated positivity, despite her ongoing illness. She was a high school graduate through ECOT, and enjoyed serving as a counselor at the Heart Camp she had attended after her own transplants.
Even while battling her own illness at Children's Hospital, Krista continued to make time and energy for playing with the younger children who were hospitalized along with her.
In her final weeks, she began giving away the money which was being donated to her as gifts to mothers of other critically ill children on her floor. A passionate lover of music, the generosity of her spirit knew no bounds.
Krista leaves her mother, Miranda McArdle and father, Eric Prikryl Sr.; her grandparents, Judy (Jimmy Rogers) McArdle of Youngstown and Jule (Joe Dax) Petrunik; a brother, Eric Prikryl Jr. of Poland; six sisters, Brittany Stalnacker of Poland, Nichole Kaufman of New Castle, Pa., Cheyanne and Savannah Shonce of Austintown, Cassandra Prikryl of Missouri, and Makayla Jeffcoat of Plant City, Fla.; one uncle, Mike (Davonna) Prikryl of Ravenna; three aunts, Chrystaline (Bryn Speidel) McArdle of Struthers, Danielle (Paul) Barbee of Concord, N.C., and Michelle (Andy) Shadley of Wooster; and her devoted boyfriend, Daniel Torres of Tooele, Utah.
Krista was preceded in death by her sister, Madison Stalnacker; her great-grandparents, Dick and Betty McArdle; and a great-aunt, Sandra Kowardy.
Friends may call from 5 to 7 p.m. on Friday at the Clemente Funeral Home in Struthers.
Visit www.ClementeFuneralHomes.com to view this obituary and send condolences.
Guestbook Entries
Dad
"Love you forever and always "
» Matt Brown on January 2, 2014
family friend
"Krista was one of the most amazing courageous brave young ladies I had the pleasure to know she came into this world is a force and left such a great beautiful mark she will be sadly missed and always remembered for kind loving soul that she was always brings a smile that everybody safe always showing comfort when needed even when she was already going through so much yourself my thoughts and prayers are with my car to family and all of your love ones and friends I got a pleasure to meet this little girl from the moment she was born and watch her grow up to be a beautiful young lady I pray that in some form or another she's around your family and friends with love and peace this weight in time the pain will ease but her memories will always be there she's a force and will always be that god bless you Chris to love and miss you and I know you're no longer in pain you're no longer suffering and no matter what you will always find a way to make a smile we love you our sweet little angel!"
» Tina Seibert on January 2, 2014
"You have my deepest sympathies of the passing of Krista. I only know Krista thourgh Chrystaline and I know she adored her and visa versa. Krista had a positive attitude and a radiant smile...and I'm sure her heart was full of love. Know she is an angel above looking down on the ones she loves. "
» Diane Graft on January 2, 2014
"You have my deepest sympathies of the passing of Krista. I only know Krista thourgh Chrystaline and I know she adored her and visa versa. Krista had a positive attitude and a radiant smile...and I'm sure her heart was full of love. Know she is an angel above looking down on the ones she loves. "
» Diane Graft on January 2, 2014
"Prayers to your family stay strong you girls have always been a strong and loving family.Lean on each others.God Bless your Angel."
» Linda &CourtneyMountford on January 2, 2014
BestFriends
"Krista , I love you so much and miss you alot . You were such a great person to be around and I enjoyed every moment i got to spend with you . You were so strong and beautiful , i looked up to you because how strong you were . Even though you are not here with , i know that your up there with Maddie & that you are a beautiful angel . i love you . Rest Easy Krista <3"
» Amber Slaven on January 2, 2014
Sisters
"I wont lie I've tried since I got the news to push the thought out of my head. I've tried to Pretend its all fake and a horrible dream. We were closer when we were younger and when I moved away it got a lot harder for me, but all I could think was ill see them all soon again and everything will go back to normal we'll fight and argue and well all become close again like sisters do. I'm trying to cope and be okay I am but I cant think and sometimes it hurts to breathe. I may not have showed it often or let know you know a much as I should have but I love you. do me a big favor please and watch out for Maddie, I know she's smiling and laughing and now you can do that too. please send me strength, im trying but I feel so weak. I love you krista. Rest In paradise Princess <3 "
» makayla jeffcoat on January 3, 2014
Loving Friend
"I am so grateful to have had time to know you but mostly when you were young. I remember the time you would make me watch every Barny video out there, and rewind them and watch them all again. They were wonderful times that I will never forget. Rest my sweet angel."
» Michael Bertleff on January 3, 2014
High School English 3 ECOT
"I am so very sorry for your loss. She was an amazing young lady. "
» Mrs. Toke on January 3, 2014
"Krista- You were everything to me. You have taught me some much about strength, determination and will. You were one of the most gracious, loving and amazing people that has ever walked this earth. I love you with all my heart and soul. You are the wind beneath my wings. Until we meet again Peanut. Love always - Your Aunt Chrystaline McArdle"
» Aunt Cissy on January 4, 2014
"I am so sorry for this great lose to your family and friends. Remember all the good and happy memories each and everyone of you got to share with her, I know it is easier said then done but as what I heard about her that is the way she would of wanted it done. God Bless You and Your Family and may the memories always live forever in your hearts."
» Friend of the Family on January 4, 2014
Sign the Guestbook
---