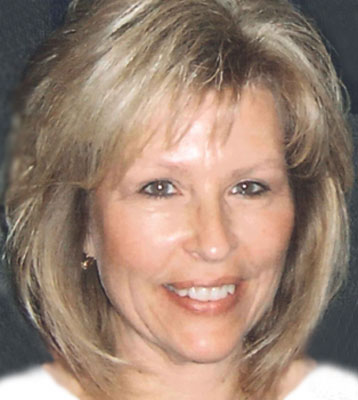 ANN MARIE MILLER
CANFIELD – Ann Marie Miller passed away on Feb. 19, 2014, after a courageous year and a half battle with colon cancer.
She was born Nov. 3, 1960, a daughter of Robert and Rita Patrick.
 Ann Marie attended Woodrow Wilson High School and the Choffin Career and Technical Center, where she earned her hair stylist license. She was a hair stylist for 35 years and her customers meant the world to her.
She also had a passion for bowling and bowled in the Holiday Ladies League for over 30 years. Tuesday nights were her nights to unwind and to enjoy time with some of her closest friends including her best friend, Toni. She couldn't wait for bowling season to start every year.
Her greatest passion though was running her business, Tasty and Creative, with her sister and co-owner, Rita. She always loved doing crafts and making flower and wreath arrangements for every holiday of the year. After it was suggested that she should sell some of those crafts, she partnered with her sister to begin their business selling gourmet dips and creating many other craft items. They attended craft shows all year long and thoroughly enjoyed spending the time together.
Ann Marie loved attending all of her sons sporting events and rooting them on. She was always one of the more entertaining spectators. She also loved camping. Some of her fondest memories were from the times spent with family and friends traveling around the country to different campgrounds in her motor home.
Ann Marie is survived by her husband, Jeff; sons, Christopher and Kevin; mother, Rita Patrick; sister, Rita (Robert) Rider; and many nieces and nephews.
She was preceded in death by her father, Robert Patrick; and brother, Bobby Patrick.
Donations may be given to the Ann Marie Miller Memorial Fund at any Huntington National Bank branch.
A memorial service will be held at the Immaculate Heart of Mary Church on Thursday, Feb. 27, at 11 a.m.
Family and friends may visit www.lanefuneralhomes.com to send condolences.
Guestbook Entries
"My heart goes out to the family of Ann Marie. We went to Wilson High together and she was my best friend in high school. I cant believe she is gone. I saw her last year at a craft show and she never aged one bit. She still looked the same as high school. I chatted with Ann on facebook most recently in November of last year and she did tell me they found cancer. I hope to be at the service on feb 27 to say goodbye to one special lady. She will be missed. God Bless Ann Marie."
» joyce gnip on February 23, 2014
"Our condolences to Jeff, Chris, Kevin and Ann Marie's mother & sister. She will be truly missed by all of us in Arizona. She was one of the sweetest people we have ever known. God rest your soul Ann Marie. We love you!"
» Gary & Lynn Miller on February 23, 2014
"God's blessings to all of her friends and family. She will always be remembered as a kind soul and very nice person. Enjoyed going to highschool with her."
» Monica Berninghaus on February 24, 2014
"Aunt Ann Marie will truly be missed. I used to love visiting Ann Marie and Uncle Jeff as a kid. The rides in the Trans-Am, making French Toast in the morning, and playing Nintendo with Chris and Kevin, were some of my fondest memories. God Bless you and your family."
» Nick and DeAnn Miller on February 24, 2014
"It was such a pleasure to have had the opportunity to know Ann Marie and have her as a part of my craft show. We were always able to find at least a few minutes to chat and I will always remember those visits. She will be greatly missed by many but never forgotten. My thoughts and prayers to all of her family at this difficult time. RIP Ann Marie."
» Candy Arp on February 24, 2014
"Jeff I'm so sorry for your loss. Among all the memories Ann Marie is always smiling. Our thoughts and prayers for you and your family."
» John Miller on February 24, 2014
"My condolences to all families millers, Patrick's, riders I am a friend of all 3 families Ann Marie will be missed god bless all that loved Ann marie"
» Jeff luggie on February 27, 2014
"My condolences to all families Millers, Patrick's Riders. I am a friend of all 3 families Ann Marie will be missed. God bless to all that loved Ann Marie"
» Jeff Luggie on February 27, 2014
Cousin
"My thoughts and prayers are with the family. Ann Marie and I shared a lot of memories... maid of honor in my wedding, driving to TX, camping, causing "trouble" , and so many more. Love you cuz! "
» Betsy Roberson on February 27, 2014
Sign the Guestbook
---