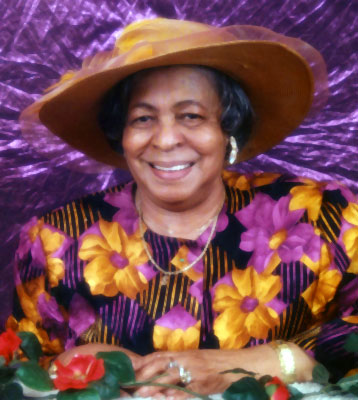 SUSIE L. HARRIS
CAMPBELL – Services will be at 11 a.m. Wednesday, Feb. 19, 2014, at the Holy Temple Church of God In Christ for Mrs. Susie L. Harris, 87, who departed this life, Monday, Feb. 10, 2014.
Mrs. Harris was born Oct. 12, 1926, in Youngstown, a daughter of Fayette and Susie Simington King, and lovingly raised by Emma Cheatham King.
Susie was a 1945 graduate of East High School and went to a local business school.
She relocated to New York and while there was employed by Simplified Business Services as a supervisor in the shipping department. She moved to Youngstown in 1972 and was employed with South Side Hospital for 11 years, retiring in July of 1989.
She was a faithful member of the Holy Temple COGIC and served on its Mother's Board, attended Sunday School, Bible Study, and was financial recording secretary. She enjoyed shopping, scrabble, traveling and reading the Bible.
She leaves to forever cherish her memories, a devoted son, Andre Harris of New York; two sisters, Geneva Hall of Boardman and Dorothy Berry of Campbell; a brother, James F. King of Boardman; three grandchildren; five great-grandchildren; and two great-great-grandchildren; a niece, Sherry McIntosh of Chicago; a nephew, Darrell Johnson of Youngstown; a devoted friend, Audrey Watkins; other friends, Debbie Booth and Helen Kearse, both of New York, and Billy Simms of Tampa, Fla.; and a host of other family and friends.
She was preceded in death by her parents; her husband, Louis, whom she married Nov. 20, 1947, and who passed away in 1974; a son, Adrian Marlow Harris; a sister, Marnine A. Betts; and a brother, Albert King.
Friends may call on Wednesday from 10 to 11 a.m. at the church.
Arrangements entrusted to the L.E. Black, Phillips & Holden Funeral Home.
Guestbook Entries
"My heartfelt sympathy goes out to the family and the church truly Mo. Harris was a beautiful person inside and out May God Keep you lifted up."
» Rosalind Keels Kennedy on February 16, 2014
"TO THE FAMILY OF MOTHER HARRIS SHE WILL BE SADLY MISSED. SHE WAS A GREAT MOTHER SISTER FRIEND TO ALL. "
» ROBERTA KING on February 16, 2014
The Family:
"We are sorry for your loss, Aunt Susie are loved nd will b gr8ly miss .. May the lord Comfort you in this time of a sensitive situation..."
» Jackii Hubbard-Edwards on February 16, 2014
"Andre and family, my sincerest condolences to you and the family. I visited Mrs. Susie twice monthly and was blessed by the time we shared. She was relieved of anxiety during my visit. Praying for the family!"
» Goldia McCall on February 17, 2014
Ms.;
"I Am Truly Sorry For Your lost!"
» Anna O. Evans on February 17, 2014
My Dear Friend Andre
"Your have our sincere sympathy over the loss of your Mom. We know that she is watching over you."
» Deborah Martin Dixon and Family on February 18, 2014
Minister
"Mrs. Susie was a wonderful woman of GOD whom will truly be missed. She had a beautiful smile & a wonderful sense of humor. My heartfelt sympathy & prayers to the family. GOD BLESS & comfort you. AMEN"
» kathy jennings on February 19, 2014
"Andre and family: My sister and I lost our sweet mother at an early age. Mrs. Harris always reminded me of our mother. She will be missed and will always have a place in my heart. "
» Rafee Kamaal on February 18, 2014
"May the family know you are not alone. Our deepest sympathy for your loss.God bless."
» Ron and Deb Madison on February 19, 2014
"Andre and Family, My sincere condolence to all of you for your loss. Growing up with Adrian and Andre was great. I large part of my memories of Christmas were the decorated Christmas tree at the Harris's, and the hot summer evenings playing cards with the family. Mrs. Harris will always give our memories a warm feeling of caring and love. "
» John Graham on February 19, 2014
"earth has no sorrow that heavin cannot heal"
» Evangilist Bridget Watson-Sharpe a on February 19, 2014
"My deepest condolences!"
» William p. Ferguson 3rd on February 22, 2014
"Dear Andre, My sincere condolences to you and your family. May God surround you all with His love and bring you peace."
» Tempie on February 28, 2014
Sign the Guestbook
---