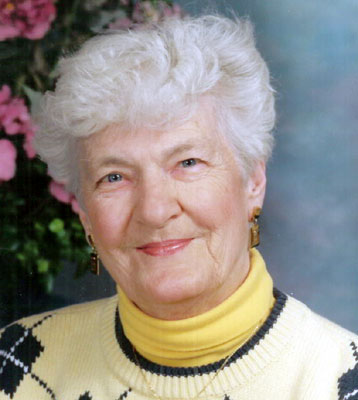 SARAH WILSON PATTERSON MASSIE
YOUNGSTOWN – Sarah Wilson Patterson Massie was born Dec. 14, 1928, and on Thursday, Feb. 13, as she was surrounded by her loving family she was "serenaded by angels" all the way home.
Pastor Kristin Stroble will preside over the memorial service for Sarah today, Feb. 16, 2014, with a visitation time at noon and the service at 12:30 p.m. at the Heritage Presbyterian Church, 1951 Mathews Road in Poland.
Sarah is "strolling across Heaven" with her dearly beloved husband, Lloyd Massie.
Sarah was the main caretaker for her mom for 13 years and embodied all of the fruits of the spirit not only with words but by her loving actions.
She graduated from Woodrow Wilson High School and attended Youngstown State University before she became an awesome wife and mother. Sarah worked at Strouss' as a receptionist in the Interior Design Department for many years and then worked at the Fotomat in Struthers.
During Sarah's young married life she was a member of the Struthers Methodist Church, which she loved and was president of WCS, a member of the circles and a member of the Homebuilders Sunday school class, also known as the Mar-Sing Class. When it came time to caretake for Sarah's mom, Sarah, Lloyd and her whole family returned to her roots at the Brownlee Woods Presbyterian Church, where Sarah was president of the Women's Circle, member of the Dorcas-Esther Circle, Martha Circle, and Sorosis class. Sarah helped with Habitat and the Nehemiah Project.
Sarah leaves her four daughters, Audrey (Gary) Spahr of Westerville, Joanne (Carl) Haddle of Youngstown, Christina (Michael) Medvec of Poland and Struthers, and Elizabeth (Steven) Turner of Franklin, Pa.
Sarah also leaves her beloved grandchildren, Sarah (Terry) McDermott, Elizabeth (George Grell) Haddle, Lindsay (Jason Okey) Brown, Michael D. (Andrea) Medvec Jr., Matthew (Heather) Medvec, Matthew Turner and Christopher (Whitney Gould) Haddle; six great-grandchildren, Caelen, Dylan, Izabel, Maeve, Madison, and Caroline; also, Sarah's sister, Audrey Ivy of Huntsville, Ala.; as well as nieces and nephews, whom she loved dearly.
"We would like to thank Pastor Kristin Stroble, Dr. Faulls and Danielle from Senior Independence for their loving care of our precious mother."
In lieu of flowers, if you so choose, Sarah would love you to consider making a donation to the Mission Committee of the Heritage Presbyterian Church at 1951 Mathews Road, Poland, OH 44514 or do a random act of kindness in her honor.
Arrangements are being handled by the Davidson-Becker in Struthers.
Guestbook Entries
"Dear Family, We send our sincere sympathies to you. Your mom was a lovely and kind person who will be remembered fondly. Please know that my Mom, Marion, sends here regards, also. Truly, Joe & Karen"
» Joe & Karen Edwards on March 3, 2014
Niece
"Beloved Cousins, A great part of my heart has gone on to heaven with your Dear Mother. xoxo"
» JeanAnn on April 5, 2014
Sign the Guestbook
---