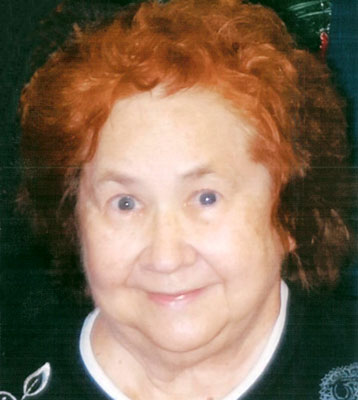 JUDY HOUCK
POLAND - Judy Houck, 74, died Friday evening, Feb. 14, 2014, at Assumption Village.
Judy was born July 8, 1939, in Youngstown, a daughter of the late George and Emily Galbraith Hopper.
A 1957 graduate of South High School, Judy received her Associate's Degree from Kent State University. She worked as a Medical Transcriber for the Youngstown Hospital Association, Northside Hospital.
Judy was a member of the South High Ladies Luncheon, the 32nd Degree Masonic Women's Association, the Poland Fire Department Ladies Auxiliary, and the Social Order of Beauceant of Warren, and was past president of the Beta Sigma Phi Sorority. Judy also enjoyed reading and crafts.
Besides her husband, Charles Houck, whom she married July 1, 1961, Judy leaves her four children, Charles (Barbara) Houck II of Boardman, Michelle (John) Holcomb of Stow, Eric (Melinda) Houck of Lake Milton and Rebecca Houck of Poland; one sister, Linda (Louis) Ross of Boardman; and two grandchildren, John Alex and Gillian Holcomb.
Funeral services will be held Tuesday at 6 p.m. at the Cunningham-Becker Funeral Home, Poland with Deacon Ray Hatala officiating.
Interment will follow Wednesday morning at the Poland Riverside Cemetery.
Friends and family will be received Tuesday from 4 to 5:45 p.m. at the funeral home.
The family requests memorial tributes take the form of contributions to Hospice of the Valley, 5190 Market St., Boardman, OH 44512.
Visit www.beckerobits.com to send condolences.
Guestbook Entries
"With deepest sympathy to Chuck and family. Judy will be missed by all."
» Elaine and Bob Fritz on February 16, 2014
"Thoughts and prayers for the Houck family. "
» Frank and Kathryn DeSantis on February 16, 2014
"Prayers and Deepest sympathy to the Houch Family."
» Chuck Snyder & Family on February 16, 2014
"Our Love & Deepest Sympathy, Chuck, Becky, Michelle, Charles, and Eric. We have all of you in our thoughts, hearts and prayers. We will remember a lifetime of memories especially her beautiful warm smile and the wonderful elf-like twinkle in her eyes. Be comforted in the knowledge she is home now with her Father, the pain is gone.....her work here on this earthly plane is done."
» MaryDee & Tom Witkowski on February 17, 2014
Mrs. Donald House
"So sorry to hear about Judy. My thoughts and prayers to Chuck and family. "
» Patty Houck on February 18, 2014
Sign the Guestbook
---