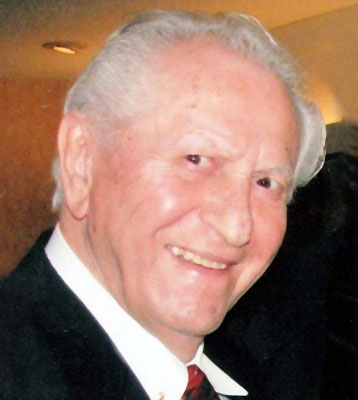 GUIDO CARLOMAGNO
BOARDMAN – There will be a Mass of Christian Burial on Monday, Feb. 17, 2014, at 10 a.m. at St. Charles Borromeo Church with the Rev. Philip Rodgers celebrating the Mass for Guido Carlomagno, 93, who passed away Friday morning, Feb. 14, 2014.
Guido was born Dec. 27, 1920, in Agnone, Italy, the son of Gaetano and Ezilda (Menaldi) Carlomagno.
He worked as a general manager for the American General Life And Accident Insurance Company. He was a member of St. Charles Church and was an avid golfer.
Guido faithfully served his country with the U.S. Army and then with the O.S.S. during World War II.
Besides his wife, Margaret (Strunak) Carlomagno, whom he married Sept. 1, 1947; he will always be remembered by his son, Stephen (Diana) Carlomagno of Vienna; six grandchildren, Rachael (Steve) Smith of New York, Stephan Carlomagno of Hubbard, Michelle Carlomagno of Youngstown, Gina Carlomagno of Pittsburgh, Michael (Christine) VanValien of Cortland, and Jackie (Matt) King of Columbus; five great-grandchildren, Austin Smith, Giana, Gavin, and Gemma VanValien, and Josie King; daughter-in-law, Marta Carlomagno of Youngstown; and sister-in-law, Helen Strunak of Poland.
Besides his parents, Guido was preceded in death by a son, Michael J. Carlomagno; a sister, Rosie DiCiocco; and two brothers, Joseph and Gaetano "Guy" Carlomagno.
Friends may call today, Feb. 16, from 4 to 6 p.m. at the Rossi Brothers & Lellio Funeral Home, 4442 South Ave. in Boardman, and from 9:15 to 9:45 a.m. at St. Charles Church on Monday prior to the Mass.
Family and friends may visit the Book of Memories at www.rossifunerals.com to view this tribute and send condolences to Guido's family.
Guestbook Entries
"So sorry to hear of your loss. Was just thinking of you the other day. God's speed."
» Barbara Soloski on February 15, 2014
Insurance agent days
"So sorry for your loss. I remember all the good old days "
» Ray Rackoff on February 16, 2014
Sign the Guestbook
---