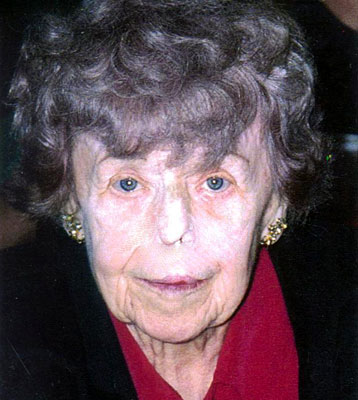 AMELIA M. GENTILE
STRUTHERS – There will be a funeral service Wednesday, Feb. 19, 2014, at 1 p.m. at the Rossi & Santucci Funeral Home, 4700 Market St., Boardman, with Pastor Samuel Gentile Jr. officiating, for his mother, Amelia M. Gentile, 93, who passed away Friday morning, Feb. 14, 2014, with her loving family by her side.
Amelia will always be remembered and loved by her family and friends for her great personality and her strong faith in God.
She was born Jan. 8, 1921, in Campbell, the daughter of Albert and Mari (Janos) Kvacky, and was a lifelong area resident.
Amelia was a graduate of Struthers High School and a member of the Heritage Baptist Church in Ellsworth.
She was a proud homemaker and worked at the Ravenna Arsenal during the war.
Amelia was an artist, poet and musician along with being an avid reflexologist.
She leaves behind to hold on to her precious memories, three children, Pastor Samuel "Sam" Jr. (Edna) Gentile of Canfield, and Shirley A. Neider and Janet Gallagher, both of Struthers; 13 grandchildren; 20 great-grandchildren; a brother, John Allen of Poland; and a sister, Mary Devan of Struthers.
Besides her parents, Amelia was preceded in death by her ex-husband, Sam Gentile Sr.; a grandson, Jeffery Gallagher; a brother, Al Kvacky; and two sisters, Diane Mangine and Ann O'Donnell.
Friends may call on Wednesday, Feb. 19, 2014, from 11 a.m. until 12:50 p.m. at the Rossi & Santucci Funeral Home, 4700 Market St., Boardman.
Burial will take place at St. John Cemetery, Lowellville.
Family and friends may visit www.rossisantuccifh.com to view this obituary, sign the guest book and send condolences to the Gentile family.
Guestbook Entries
"I am very sorry to learn of the passing of Mrs. Amelia Gentile. I use to place Bible literature with her. She loved to read especially religious materials. I can still see her sitting on her front porch reading her Bible. She is now in God's memory. The scripture at Revelation 21:4 has always brought me comfort and hope that one day I will see my dead loved ones again."
» Dorothy Pruitt on February 16, 2014
"My Grandmother was the true matriarch of our family. Losing her definitely leaves a void in all of our lives. I know that she is truely at peace and will always remember her in my heart. "
» Jennifer Madani on March 16, 2014
Sign the Guestbook
---