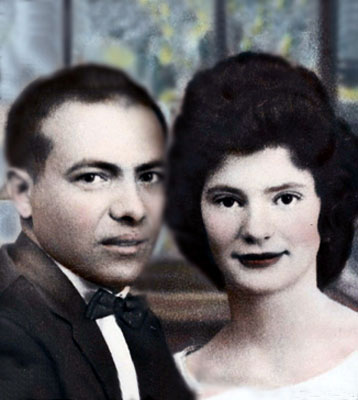 NORMA (MOORE) ELGABRI
"Together Again"
YOUNGSTOWN – Funeral services will be held at 11 a.m. on Friday, Feb. 7, 2014, at the Kubina-Yuhasz-Wasko Funeral Home with Pastor Matt Ferguson officiating for Norma (Moore) Elgabri, 71, who passed away only eight hours after her beloved husband on Feb. 3, 2014.
Norma was born March 3, 1942, in Norton, Va., a daughter of James Ray and Lillie (Lovell) Moore.
She worked for Brentwood Pillow Factory and was a homemaker.
Norma leaves to cherish her memories, her sons, Manna (Zahara) Elgabri, William (Asia) Elgabri, and Kassim (Robin) Elgabri Jr.; as well as a daughter, Candy Duble; 15 grandchildren; seven great-grandchildren; and two brothers, Tom (Carmen) Burleson and John (Deborah) Burleson.
Other than her parents, she was preceded in death by her husband, Kassim Elgabri, whom she married March 2, 1958, and who passed away Feb. 2, 2014; a daughter, Kathy Cernik; and siblings, Elizabeth Miller, Bernice Strong, Ruby Jo Gavin, Fannie Mae Jenkyns, Jim Moore, Leroy Moore, and Marie Mutter.
The Elgabri family has entrusted their loved one to the care of the Kubina-Yuhasz-Wasko Funeral Home, where friends may call on Thursday from 4 to 6 p.m. and one hour prior to the service on Friday.
Interment will take place at Green Haven Cemetery.
Visit www.waskofamily.com to view the obituary and send the Elgabri family condolences.
Guestbook Entries
« Be the first to sign NORMA (MOORE) ELGABRI guestbook.
---