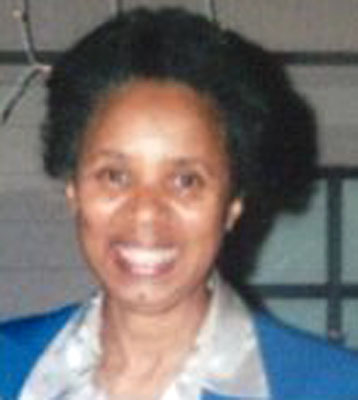 DR. YVONNE D. WATKINS-WAGNER
YOUNGSTOWN – Services will be held at 10 a.m. on Saturday at the New Bethel Baptist Church, 1507 Hillman St., Youngstown, for Dr. Yvonne D. Watkins-Wagner, 65, who entered eternal rest on Friday, Jan. 31, 2014, at her home with her family by her side.
Dr. Wagner was born May 30, 1948, in Newark, N.J., a daughter of Charles W. and Jewell E. Page Watkins.
She had been a resident of Newark until 1954, moving to San Antonio in 1954 and to Cleveland in 1962, before relocating to Youngstown in 1968. She was an adjunct professor and had been employed with Eastern Gateway Community College as an English instructor for three years.
She was a member of the Pentecostal Church of Christ in Cleveland from 1962 to 1968, where she served as a Jr. Usher, Ambassador and Mass Choir Member. Upon moving to Youngstown, she joined the Mt. Calvary Pentecostal Church, serving as head of the Ministry of Order, MTC Concert Choir, and manager of Tel-A-World Ministries Int.
She leaves to cherish her memories, her mother, Jewell E. Watkins of Cleveland; her beloved husband, Mervin D. Wagner, whom she married Nov. 9, 1968; her children, Megan L. (Curtis) Wagner-Ingram of Youngstown; two sisters, Jan L. Watkins-Wood and Rumae Watkins-Clarke, both of Cleveland; a brother, Ricky C. Watkins of Dallas; two adopted sons, David F. Hollis of Chicago and Chivas R. Whipple of Youngstown; godchildren, Dionne Corley, Christian J. Wagner, Cameron Brantley and Alexander Jones; several nieces and nephews; extended family; and a host of friends.
She was preceded in death by her father, Bishop Charles W. Watkins.
Friends may call Friday from 5 to 7 p.m. at the L. E. Black, Phillips & Holden Funeral Home, and Saturday from 9 to 10 a.m. at the New Bethel Baptist Church.
Guestbook Entries
"Yvonne was a wonderful asset to EGCC. We will miss her. "
» Patty on February 5, 2014
"Sis. Yvonne Wagner was one who could make me laugh so hard, she will be missed. Love and Prayers"
» Theresa Campbell Johnson on February 5, 2014
"MY SINCERE CONDOLENCES AND PRAYERS GO OUT TO THE ENTIRE WATKINS-WAGNER FAMILY IN THE LOSS OF SIS. YVONNE WATKINS- WAGNER. GOD IS ALWAYS IN CONTROL."
» Dec. Ernest Andrews on February 5, 2014
"condolence to the family."
» ann ghrim and family on February 5, 2014
"My sincere condolences to the Watkins and Wagner Families. My prayers are with you"
» Kathy Eberling Williams on February 5, 2014
rip
"Miss u mrs. Wagner rip "
» Melody on February 6, 2014
"To the Watkins and Wagner Family, Trustee Mervin and Megan, we extend our sincere condolences to you. I am praying for you."
» Michael and Katrina Jones on February 6, 2014
"To the Wagner Family and the Mt. Calvary Family. Praying for you at this very difficult time, and remembering that our God is forever Faithful. Love and Prayers "
» Glenda Fears McNeal on February 6, 2014
"To both families and extended family members me the comfort that you surely require be available and the prayers abound. Your thoughts will be in my heart and mind for a long time as you heal the loss of this beloved sister and friend of mine"
» Sherry ivy-stewart on February 7, 2014
"Megan, Our hearts & prayers are with you & your family. We love you!"
» John & Crystal Eldridge on February 7, 2014
"We extend our deepest condolences to Mervin, Megan, and all family and friends of Yvonne Watkins-Wagner. We heard Yvonne sing for a lifetime but God will receive her praise forever. "
» Bert and Debbie Robinson on February 7, 2014
"I learned so much from her as my English instructor."
» Arnold on February 7, 2014
"To the family I offer you my prayers and condolence. She will be missed. Bishop Wagner, Bishop Watkins, and she are resting peacefully with the others saints in heaven and having their own reunion and services."
» Lee Ann Wilson on February 8, 2014
"My sincere condolences and prayers. My the Lord God be with you all Uncle Mervin,Megan,Mother Watkins and family. God Bless"
» Theodis Mims "Poocka" on February 8, 2014
Pastor
"We at Ark 4Dominion Aposoltic ministries remember. Dr Yvonne Wagner wellw we are the legacy of her ministry. To reach the world through. The tel a world. Gone but not forgotten. By many saints in England sorry that we just some of us just heard the sad news.all my love Pastor Karen Fyffe. And many more"
» Karen Fyffe on February 14, 2014
My condolences
"I'm kind of sad when I heard that Ms.Wagner passed away...my deepest condolences to the Wagner family...One thing I can say about her is..she was very good English professor at EGCC...I never had her as a teacher but as a tutor...u helped me write better in college..and I'm thankful for all u have helped with...R.I.P...Ms.Wagner..."
» Shavaughn H on April 6, 2014
Sign the Guestbook
---