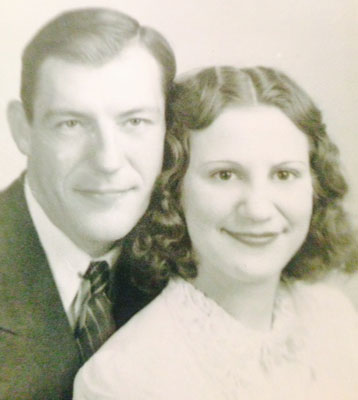 LEE ROY NELSON
"Together Again"
POLAND - Lee Roy Nelson, 102, beloved father, grandfather, uncle, and friend, passed away on Saturday, Dec. 20, at Hospice House in Poland.
He was born on Sept., 28, 1912, in Bullskin Township, Pa.
In the late 1920s, he built roads in Ohio and the Pennsylvania mountains. In the 1930s, he worked in a Pennsylvania coal mine and also on a dairy farm in Ithaca, N.Y. He helped build the Pennsylvania Turnpike from 1939 to 1940. When that was completed, the company went to Sharon, Pa., where he worked on roads and also helped a carpenter.
Lee moved to Youngstown in 1941, where he was employed by the Youngstown Sheet & Tube Company. He worked in Campbell, then became a foreman at the Briar Hill Electric Weld Tube Mill. In 1964, he transferred to the Youngstown Sheet & Tube Company's Research Center in Boardman where he was a boiler engineer. He retired from that company in 1971, with 30 years of service.
From 1971 to 1981, Lee was employed as maintenance superintendent at Youngstown State University, retiring from there with 10 years of service. From 1981 to 1990, he and his wife were custodians at the Boardman Christian Church.
He was a member of the Good Hope Lutheran Church in Boardman, where he served as an usher and on the Evangelism Committee for many years.
Lee loved spending time with family, making coffee for Sunday church services, watching game shows and Cleveland Indians baseball games on TV, taking cruise vacations, and fishing.
He was preceded in death by his wife, Jessie Alverta Walters, whom he married on Aug. 29, 1937, and died on March 24, 2008; a stillborn son, William Leroy; his parents, Lawrence Percy Sr. and Goldie Koontz Nelson; brothers Ralph and Lawrence Percy (Blanche) Nelson Jr.; son-in-law Keith Kamerer; sister-in-law Loretta (Fred) Wardle; brother-in-law Delmar Beryl Walters; niece Dolores (Francis) King; and nephews Dave Keslar, Brian Gilbert, and Dominic Sirianni.
Those left to cherish his memory, include his daughters, Wilodene Kamerer of Sidney and Sandra (Richard) Bee of Canfield; granddaughter Jennifer (Jacob) Studebaker of Piqua; sister-in-law Lea Walters of New Castle, Pa.; and his beloved nephews and nieces, Debbie (Charles) Gilbert of Poland, Eugene (Jane) Nelson of Connellsville, Pa., Helen Keslar of Acme, Pa., Sally Sirianni of Scottdale, Pa., Dean (Mary Ann) Nelson of Youngstown, Gary (Brenda) Nelson of Jupiter, Fla., Norma Jean (Robert) Keslar of Garrettsville, Diane Walters Firestone of Orlando, Fla., Ruth (Eddie) Walters-Brown of New Castle, Joy Walters Cookson of New Castle, Dave (Kathy) Walters of Havelock, N.C., and Karen (Michael) Walters of Chicago.
Lee's family would like to extend a special thank you to his caregivers, his niece and her husband, Debbie and Charles Gilbert, for all the loving care, patience, and compassion shown him the last five years of his life. They would also like to thank the staff at ValleyCare Northside Medical Center, Hospice of the Valley, Hospice House, and night aides, Ruth Walters-Brown and Mary Haney, for their excellent care.
The family suggests all gifts take the form of memorial contributions made to the Wounded Warrior Project, P.O. Box 758517, Topeka, KS 66675, or to either the Christian Education Fund or the Needy Fund at the Good Hope Lutheran Church, 98 Homestead Drive, Boardman, OH 44512.
Visitation will be from 9 to 10:20 a.m., with the service immediately thereafter at 10:30 a.m., at the Good Hope Lutheran Church on Saturday, Dec. 27.
Interment will be at Green Haven Memorial Gardens.
Arrangements handled by the Davis-Becker Funeral Home.
Guestbook Entries
« Be the first to sign LEE ROY NELSON guestbook.
---