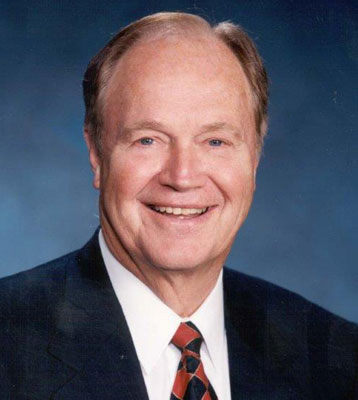 JOHN 'JACK' MAYO
BOARDMAN - A prayer service will be held Saturday at 9:15 a.m. at the Higgins-Reardon Funeral Home, Boardman-Canfield Chapel, followed by a Mass of Christian Burial at 10 a.m. at St. Charles Catholic Church, Boardman, for Mr. John "Jack" Mayo, 89, who died Tuesday evening at Assumption Village.
Jack was born in Litchfield, Ill. His family moved to Youngstown when he was 12 and he considered this to be his home ever since.
Jack was a 1942 graduate of The Rayen High School and then joined the U.S. Marine Corp, serving as a Second Lieutenant. He graduated with honors from the University of Notre Dame, where he was captain of the baseball team. He was drafted by the Philadelphia Phillies and was with them from 1947 to 1956, and during this time, he was also a part of the famed Phillies "Whiz Kids" team and played in the 1950 World Series.
After his baseball career, he came back to Youngstown and started the real estate firm of Mayo & Orvets in 1959, which later became Mayo and Associates. Jack was considered the "Dean of Real Estate" throughout the area, developing thousands of homes in Applewood Acres, Tanglewood, Mount Vernon and Park Harbour, as well as many other developments. He also developed and managed several large commercial buildings mainly along Rt. 224 and South Avenue. Jack was a member of the church and was Past President of the Youngstown Board of Realtors and he was a Curbstone Hall of Fame recipient. Along with baseball, he also loved to play tennis, golf and any other sport. He will be missed by his golfing buddies at Tippecanoe.
He was preceded in death by his mother, Alice, and his wife of 49 years, the former Patricia McCabe.
Together they had four children, Dr. John (Debbie) Mayo, Susan (Richard) O'Brien, Janet (John) McCarthy and Dr. Richard (Franny) Mayo, all of Boardman; 14 grandchildren; and two great-grandchildren.
Jack also leaves his second wife, Jennifer DeChicco Mayo, and her son, William DeChicco; four grandchildren; and his sister, Alice Sinchok of Kent.
He also was preceded in death by his granddaughter, Abby Mayo, and his brother-in-law, John Sinchok.
The family would like to thank the staff of Assumption Village for taking such great care of Jack.
Memorial contributions may be made to Hospice of the Valley or the Ursuline Sisters, in memory of Jack.
Friends may call Friday from 3 to 7 p.m. at the funeral home.
Please visit www.higgins-reardon.com to view this obituary and send condolences.
Guestbook Entries
"with our deepest and heartfelt sympathy. may you rest in peace ."
» candy & eddie debartolo on August 21, 2014
"Our deepest sympathy,we will miss your hardy laughter."
» Dave&jan Lewis on August 21, 2014
"I can only smile at my memories... love you all..."
» Amy Klumpp on August 21, 2014
friend
"Having worked for you many years ago, I will always have great memory's of you. Out deepest sympathy to your family Larry & Shirley Porter, Naples Fl"
» Larry & Shirley Porter on August 21, 2014
friend
"Having worked for you many years ago, I will always have great memory's of you. Out deepest sympathy to your family Larry & Shirley Porter, Naples Fl"
» Larry & Shirley Porter on August 21, 2014
STNA - The Assumption Village
"Jennifer and family, I am so sorry to hear of the loss of Mr. Mayo. I am an aide at The Assumption Village. I have been fortunate enough to have the opportunity to take care of Mr. Mayo on numerous occasions. He and Jennifer were always kind and I am glad for the times we shared laughs."
» Lori on August 21, 2014
"Please accept our sincere condolences in the loss of your father. We are so sorry. "
» CHRIS,PENNY, BRAD FERRY AND KRISTA FERRY TAYLOR on August 23, 2014
friend
"Jennifer, Jack was such a kind man. I'm sure the care you gave him for so many years was appreciated by Jack and your many family members. Love to you and your family. Charlene and Jim Von Bampus, Pompano Beach, Fl."
» Charlene Cross Von Bampus on August 23, 2014
Sign the Guestbook
---