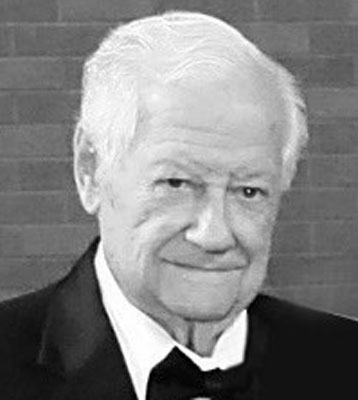 JOSEPH J. SYLVESTER SR
BOARDMAN – A Mass of Christian Burial will be celebrated 11 a.m. on Friday, Aug. 8, 2014, at St. Charles Borromeo Church, with the Rev. Philip Rogers officiating, for Joseph J. Sylvester Sr., 85, who passed away peacefully the morning of Aug. 4, at Hospice House, with his family by his side.
Joe was born April 3, 1929, in Youngstown, the son of Carl and Anna (Burce) Silvestri.
Joe was a 1948 graduate of East High School and served with the U.S. Army Band during the Korean Conflict. He was employed as a driver with the Renner Brewery Company until 1956.
Joe was well-known to many as a prominent residential and commercial builder and developer. His construction career began in 1956, when he partnered with his friend, Nick Jeswald, to form Jeswald and Sylvester Construction, building homes for about 10 years.
He then ventured out on his own and relocated to Boardman in 1969. He constructed his first commercial office building on West Boulevard, near 224 in Boardman. It is at this location that the Joseph Sylvester Construction Company still remains today. Following a trip to Florida in 1981, he became known in the area as the "brainchild" behind developing the very first residential condominium community. This successful venture led him to broaden the condominium communities throughout the Boardman and Canfield areas. Joe's labor of love wasn't complete. He then expanded into developing office and business executive parks, medical complexes, nursing homes, restaurants, retail plazas, industrial parks, warehousing and self-storage facilities.
Joe was a faithful member of St. Charles Parish. He also was a member of the Mahoning Valley Home Builders Association, serving as president in 1970.
In 2009, he was honored as one of the first inductees into the HBA Hall of Fame. Joe was a member of the National Association of Home Builders for over 50 years, where he gained status of the Life Spike Club. As a member of the Boardman Civic Association, he was honored with the Outstanding Remodeled Construction and Outstanding New Construction awards for his work building places such as, Caffè Capri and the Surgery Center at Southwoods, among many others.
In 2002, he was honored again by the Boardman Civic Association with the Community Service Award, recognizing his involvement in many community projects by donating his time and talents in local projects such as, Boardman Park, the Field of Dreams, and St. Charles Church.
Joe was also a local, professional musician for over 30 years. Besides his love of work and music, he enjoyed playing golf, bowling, and bocce. He loved family gatherings and spending time with his friends.
Joe will be remembered lovingly by his wife of 62 years, Anna Marie (Rasile) Sylvester, whom he married Feb. 8, 1952; his son and daughter-in-law, Joseph J. Jr. and Kathy Sylvester of Boardman; his two grandchildren, Joey Sylvester of Canfield and Krysta (Jeff) Sylvester-Peterson of Boardman, who he adored and took great pleasure in following their sporting events and professional endeavors; as well as his several loving nieces and nephews.
Besides his parents, Joe was preceded in death by his three brothers, Fred, Frank, and Nick.
Friends may call on Friday, Aug. 8, 2014, from 9 a.m. until time of the Mass at St. Charles Church.
Interment will take place at Calvary Cemetery.
In lieu of flowers, the family will respectfully accept any monetary contributions to be distributed in Joe's name between the Hospice House and St. Charles Church.
The family would like to extend their heartfelt gratitude to the entire staff and aides at Hospice House and Shepherd of the Valley in Boardman for all the special care and compassion shown to Joe during his time there.
The Rossi Brothers & Lellio Funeral Home in Boardman have been bestowed the honor and privilege of handling the funeral arrangements for Joe.
Family and friends may visit the Book of Memories at www.rossifunerals.com to view this tribute and send condolences to Joe's family.
Guestbook Entries
"JOE WAS A TRUE GENTLEMAN AND FRIEND OF THE COMMUNITY. HE WAS ALWAYS READY TO HELP AND WILL BE TRULY MISSED. KEN WILSON"
» KEN WILSON on August 6, 2014
" Joe was a true gentleman and a real asset to the community. He will truly be missed. Ken Wilson"
» KEN WILSON on August 6, 2014
"Our deepest sympathy to the family! Joe was a wonderful man to know and will be remembered by many We only could say Joe Job well done ! Rest in peace"
» Jeri & Jim Baumgarten on August 6, 2014
Retired Sales Rep.
"Joe; I met you in 1992 and I learned from you the that all you need to build was a pencil, pc. of paper, and a creative mind. There was nothing that could not be built without your gift. The lord blessed you with a beautiful family and wife; who also made me feel at home when I was around. I will miss you dearly Joe, for there are very few of you left in this world. Till we meet again, God Bless. Love, Marc ad Jean Rinella, Greenville, Pa."
» Marc and Jean Rinella on August 6, 2014
"I was saddened to hear of Joe's passing. Joe was a highly respected businessman whom I've had the honor to work for. May God be with his family during this difficult time. His memory and smile will forever be etched in my mind. "
» Joseph T Joseph on August 6, 2014
"Our thoughts and prayers are with the Whole Family. God only makes a few men like Joe. He will be forever remembered by all of those who knew Him."
» The Claytons Gene, Tim, Rick and Dan and thier Familys on August 6, 2014
"Our thoughts and prayers are with the Whole Family. God only makes a few men like Joe. He will be forever remembered by all of those who knew Him."
» The Claytons Gene, Tim, Rick and Dan and thier Familys on August 6, 2014
" JOE WAS A TRUE GENTLEMAN AND FRIEND OF THE COMMUNITY. HE WAS ALWAYS READY TO HELP AND WILL BE TRULY MISSED. KEN WILSON"
» KEN WILSON on August 6, 2014
"We at ShipOnSite have lost a great friend and business associate, a man who always conducted himself with class and dignity. Our thoughts and prayers are with the Sylvester family."
» Chris Sipple on August 6, 2014
"It was an honor to know him . My condolences to his family ! You all are in my prayers "
» Ken Krainock on August 6, 2014
"our sympathy to the Sylvester family. the community has lost a true gentleman."
» dave mchattie family on August 8, 2014
"My deepest sympathy to the family.Farewll to a friend and classmate "
» Theresa Simone- Malambri on August 8, 2014
"My brother, Steve Uhlar & I would like to offer our deepest sympathies to the Sylvester Family. His brother Nick was our Uncle. Blessings to you all."
» Susan Uhlar Patella on August 8, 2014
Sign the Guestbook
---