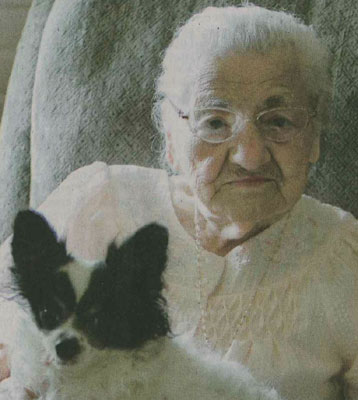 ROSE M. CIFALDE
HUBBARD - There were private services held Thursday, April 10, 2014, at the Stewart-Kyle Funeral Home for Rose M. Cifalde, 110, who passed away Monday, April 7, 2014 at her home.
Rose was born Sept. 3, 1903, in Youngstown, a daughter of Anthony and Mary Grace DeCarlo Anzivino.
Her husband, Carmen R. Cifalde, whom she married Aug. 24, 1924, passed away Oct. 17, 1980.
Rose will be sadly missed by her son, Anthony Cifalde, and her daughter, Mary Grace Cifalde, both of Hubbard; four grandchildren; three great-grandchildren; and her dog, Zero. She also leaves several nieces and nephews; great nieces and nephews; and cousins.
Besides her parents, she was preceded in death by her husband; her sons, William Cifalde and John Cifalde; her grandson, William Cifalde Jr.; her brothers, Rocco Anzivino, Frank Anzivino, and Joseph Anzivino; and her sisters, Mary Andio, Laura Cefalde, Grace DelRose, Betty Billet, and Carmel Colangelo.
A special thanks to Dr. Ted Faull, Dr. Esmeraldo Espino, the Southern Care Hospice, and Patriot Home Care, for all the compassionate care given to Rose.
Rose was laid to rest at Belmont Park Cemetery.
Memorial contributions may be made to the donor's favorite charity.
Family and friends are invited to visit the funeral home's website at www.stewart-kyle.com to share memories and condolences.
Guestbook Entries
"To the family I give my sympathy for the loss of your mother. I am the daughter of Rocco Anzivino and I have many memories of the Cefalde family and all the Step and Half sisters and brothers from my father's family. God Bless."
» Marie(Anzivino)Downing on April 13, 2014
Sign the Guestbook
---