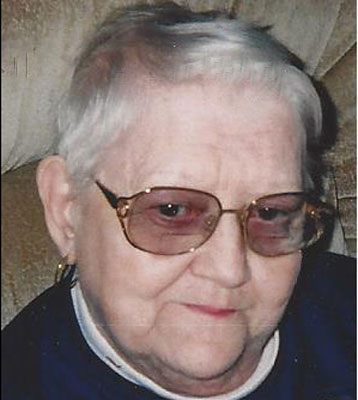 MARY F. PAL
AUSTINTOWN – Memorial services will be held Tuesday, April 15, (Mary's birthday) at 7 p.m. at the Thompson-Filicky Funeral Home, 4221 Market St. in Boardman, for Mary Frances Pal, 85, who passed away Nov. 22, 2013, at Briarfield Manor, Austintown, with her family by her side.
Mary was born April 15, 1928, in Decatur, Ill., the daughter of the late Leslie and Marian (Richardson) Lycan. She moved to the Youngstown area as a child and graduated from Jackson Milton High School.
She worked in retail as a clerk for Strouss's Department Store in Downtown Youngstown, then The Wedding Bell at the Southern Park Mall and at Borrows Coin Shop at the Eastwood Mall, before retiring.
Mary was a member of the First Federated Church in North Jackson and attended the Victory Christian Church.
She was a member of the American Legion, Post No. 737, and was a volunteer leader for the Cub Scouts and the Girl Scouts. She was an avid Bingo player, enjoyed baseball and was a fan of the Pittsburgh Steelers. Mary enjoyed reading books, old movies, collecting paper weights and spending time with her family.
Her husband of 15 years, John Pal, whom she married Sept. 8, 1949, died Oct. 31, 1964.
Mary is survived by two children, Cynthia Anne Carbone of Struthers, and Ron Pal of Youngstown; three grandchildren, Michael J. Malolepsi and Megan A. Malolepsi, both of Youngstown, and John Pal of Daytona Beach, Fla.; and four great-grandchildren, Layla, Penelope, Mary Jane and Natalie.
Family and friends may call on Tuesday, April 15, 2014, from 6 to 7 p.m. at the Thompson-Filicky Funeral Home, Boardman.
Please visit www.thompsonfh1932.com to view this notice and send condolences to the Pal family.
Guestbook Entries
mrs
"My deepest sympathy. She is remembered fondly from scouting "
» Kathy Gregg Sayre on April 13, 2014
Sign the Guestbook
---