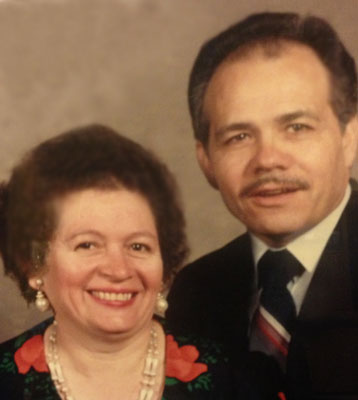 LUZ M. (PAGAN) COLON
"Together Again"
YOUNGSTOWN – There will be funeral services at 9:30 a.m. on Monday, April 14, 2014, at the Rossi Brothers & Lellio Funeral Home, followed by a 10:30 a.m. Mass of Christian Burial at Christ the Good Shepherd Parish at Sta. Rosa de Lima Church to be celebrated by the Rev. Shawn Conoboy, for Luz M. (Pagan) Colon, 77.
Luz passed away Friday evening, April 11, 2014, at her home with her loving family by her side.
She was born June 2, 1936, in Orocovis, Puerto Rico, the daughter of Lucas Pagan and Maria Cleofis Marrero.
She was a wonderful homemaker to her family.
She has been reunited in eternal life with her husband, Deacon Felipe Colon Sr., whom she married March 26, 1953, and who passed away July 20, 2005.
She will always be loved and remembered by her son, Felipe (Debbie) Colon Jr. of Florida; three daughters, Maria Fernandez, Lucy Cintron, and Rosita Diaz, all of Youngstown; 10 grandchildren; 15 great-grandchildren; three sisters, Maria, Porfiria, and Bernardina Pagan; and also many loving brothers-in-law, sisters-in-law, nieces and nephews.
Besides her parents and husband, Luz was preceded in death by her grandson, Norman; her sister, Antonia; and four brothers, Juan, Jose, Miguel, and Tomas Pagan.
Friends may call today, Sunday, April 13, from 5 to 7:30 p.m. at the Rossi Brothers & Lellio Funeral Home, 4442 South Ave. in Boardman, where a prayer service will be held at 7:30 p.m.
Family and friends may visit the Book of Memories at www.rossifunerals.com to view this tribute and send condolences to Luz's family.
Guestbook Entries
"May the Comforter bring you Peace--We love your family--You were blessed with parents with a sweet sweet spirit and a heart after God.."
» Betty Arroyo Cuevas on April 13, 2014
Sign the Guestbook
---