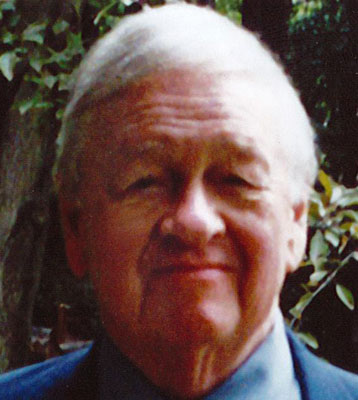 GEORGE B. SNYDER III
YOUNGSTOWN - George B. Snyder III, avid talker, family man, meticulous planner, and a proud lifelong resident of Youngstown, passed away peacefully in his sleep on April 11, 2014, at the age of 88.
As George would tell it, this was not the first time he died. According to George, he first died in 1945, as a Naval Seaman when he was awaiting his shipment orders at Camp Shoemaker in California. As George told it, upon arriving at Camp Shoemaker, he ran into an old friend who was working the Navy's personnel distribution office and who asked George if he wanted to be "dead" for the weekend. Upon inquiring what exactly he meant, his friend indicated that he could put George's personnel file into those of recently deceased military personnel rather than into those who were to be immediately shipped out to sea, thus insuring George one last hurrah before he shipped out. After his weekend of laughs, George returned to the distribution office for his orders, only to learn that his friend had been reassigned in George's absence. It was a few months, George would say, before someone realized that he was not actually dead.
Whether this story is completely true or not really misses the point. George loved to tell stories. Whether it was about the history of his family – his great-grandfather, Steward, first came to Youngstown in the 1870s and set up a carriage maker shop on East Federal Street downtown, and his grandfather, George Sr., was an editor of The Vindicator, U.S. Postmaster for two terms, and a Youngstown mayoral candidate – or about his eclectic art and antique collections, or about his passion for repairing clocks, George loved to spin a yarn.
It is probably for this reason that after serving honorably in World War II in the Pacific Fleet as a radio operator and after graduating from Youngstown College, later Youngstown State University, George was drawn to a career in sales. George worked for Youngstown Arc Engraving, later Youngstown Lithographing, for more than four decades. George loved the printing business, not only for his love of the art of the sale, but also for what came after the sale. George always used to say that getting the sale was easy, but a real salesman actually delivered on his promises. It is no wonder that George rose through the ranks at Youngstown Litho, from a sales representative to co-owner of the company, serving as its Executive Vice President.
But George would always say that his greatest sales pitch of all was to convince his wife Nancy E. Lee, originally of Doylestown, Pa., to marry him. They married on Dec. 22, 1956, a mere 9 months after meeting. Many still wonder, nearly 58 years later, how he pulled it off. During their time together, they had five sons, George (Omi) of San Antonio, Bill of Howland, Eric (Nancy) of Amesbury, Mass., Dave (Michelle) of Canton, Mich., and Chris (Angela) of Fairfax, Va. They also were blessed with 11 grandchildren, Nancy (Steve), George V (Jessica), Mara Brynna, Hallie, Erica, Amy, David, Jr. (Izabela), Michael, Paul, and Kimberly; along with two great-grandchildren, Adalyn and Brinessa, all of whom George would dote on and brag about for hours to anyone who would listen.
George was predeceased by his brother, Phil, the former director of University Relations for Youngstown State University; and his parents, George Jr., and Cleomarie.
Family and friends are all welcome to come and tell a funny story or share a warm memory of George Tuesday from 5 to 7 p.m. at the Davis-Becker Funeral Home in Boardman, with a Masonic service to follow at 7 p.m.
A service to honor the wonderful life of George will be held Wednesday at 11 a.m. at the Bethel Friends Church, 2771 Spitler Road in Poland, where family and friends will be received prior to the service, from 10 to 11 a.m. A reception lunch will follow.
A private interment will take place at the family plot at Oak Hill Cemetery in Youngstown.
Please visit www.beckerobits.com to send your memories of George.
In lieu of flowers, George, a dyed-in-the-wool conservative, would ask that you instead honor his memory by contributing to the campaign of whoever is running against the Democratic nominee for President in 2016.
Guestbook Entries
"Life in this here Valley will not be as enhanced as with George B. the IIIrd absent from Lockwood Blvd....but his spirit will be ever present. Good job, George."
» Betty Bannon on April 13, 2014
"The spirit of George B. Snyder III remains with us forever, despite his absence from Lockwood Blvd. Good job, George!"
» Betty Bannon on April 13, 2014
"I would like to send my thoughts and prayers to the family of Mr. Snyder. He would come into Donnell Ford for all his Service needs. He was one of the nicest person to deal with. I got to meet his Wife and his Son, and Grandsons not to long ago. What a wonderful family he leaves behind. God Bless The Snyder family"
» priscilla on April 14, 2014
"Several of us from the Memphis "Reznor" office worked with George, when he called on the Reznor facility in Mercer. I had not seen George in a number of years, and we were saddened this morning to learn of his passing. However his picture brought a smile and his obit brought a big laugh. Great guy, full of life. I think you could meet him only once and remember him forever. It was our honor and good fortune to have known George. David Street, Memphis TN"
» David Street on April 19, 2014
Sign the Guestbook
---