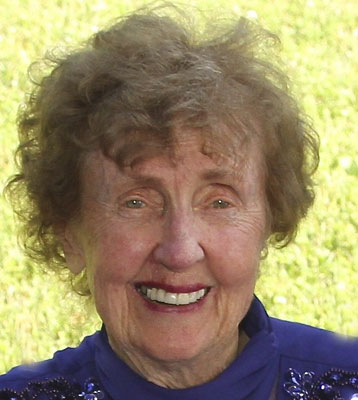 DORIS W. KUSZMAUL
CHAMPION - Doris W. Kuszmaul, 94, went to be with the Lord and her loving husband April 11, 2014. A resident of Clearview Lantern Suites of Champion, she was the widow of Glenn E. Kuszmaul.
Born Dec. 23, 1919, in Washington Court House, she was the daughter of the late Wallace and Dora (Judy) Wolfe. Doris was a 1938 graduate of Champion High School, briefly worked for Packard Electric, and then ran the office for her husband's Construction Company for 35 years. She was a devoted homemaker and a member of the First Community Church of Leavittsburg.
She will be lovingly remembered by her son, G. Craig Kuszmaul and wife Becky Smithfield of North Carolina.; daughters Robyn R., wife of Bruce Budd, of Garrettsville and Lisa K., wife of Rick Aldridge, of Warren; eight grandchildren, Whitney Kuszmaul (Amanda), Rebecca Buckner (John), Hunter Misenis (Chris), Csala Beers (Dan), Benton Kuszmaul (Stephanie), Bethany Williams, Courtney Aldridge, Peyton Aldridge; and five great-grandchildren.
She was predeceased by her parents; her husband of 41 years, Glenn E. Kuszmaul; a son, Barry Eugene; her infant daughter; four sisters, Helen Wolfe, Kathleen Cline, Betty Dudenhoffer, and Janet Cavendar; and three brothers, Theodore, Karl and Donald.
Pastor John Jaros will officiate at 1 p.m. Monday, April 14, 2014, at the Carl W. Hall Funeral Home, 533 North Park Ave., Warren, OH 44481, where family and friends may call before the service from 11 a.m. to 1 p.m. Interment will follow at Champion Township Cemetery.
The family requests material contributions be made to the First Community Church, P.O. Box 361 Leavittsburg, Ohio 44430.
Visit www.carlwhall.com to send condolences. Special thanks from the family to the staff at Clearview Lantern Suites for the special care that they gave her the past three years.
Guestbook Entries
« Be the first to sign DORIS W. KUSZMAUL guestbook.
---