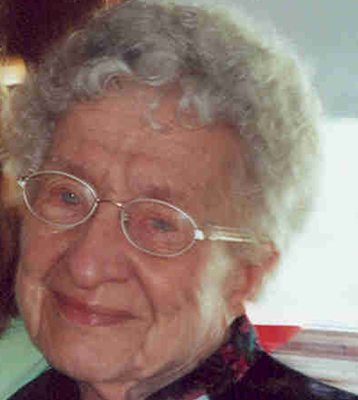 ANNA M. KRISTANC
GIRARD – Anna M. Kristanc, 95, passed away March 29, 2014, Saturday morning at her home.
Anna was born May 9, 1918, in Calumet, Mich., the daughter of John and Anna (Casni) Zagar. She was raised from an infant by her aunt and uncle, John and Theresa (Zagar) Pavlinac.
Anna was a graduate of Girard High School, Class of 1937, and then went to St John's Nursing School in Pittsburgh, and graduated in 1941.
Anna worked for many years at North Side Hospital, where she retired in 1980 as Head Nurse. She was a member of St. Rose Church.
Anna married Frank Kristanc on May 26, 1951. Frank passed away on Nov. 21, 1991
Anna is survived by two daughters, Paula (Kevin) Kracha of Lemon Grove, Calif., and Eleanor (Michael) Harris of Girard; seven grandchildren, Justin and Shannon Kracha, Adam and Daniel Hazen, Joshua, Ashley and Brittany Kristanc; and two great-grandchildren, Andrew and Marley Grant.
Anna was preceded in death by her husband, Frank; a son, Frank J. Kristanc; grandson, Lucas Kristanc; and three brothers, John, Frank and Joseph.
The family will receive family and friends Thursday, April 3, 2014, from 6 to 8 p.m. at Kinnick Funeral Home, McClurkin Memorial Chapel in Girard.
A funeral Mass will be held Friday, April 4, 2014, at 11 a.m. at St. Rose Church. There will be prayers at McClurkin Memorial Chapel at 10:30 a.m. Friday morning, prior to the church Mass.
Interment will be at Calvary Cemetery.
The family requests that memorial contributions be made to Hospice of the Valley in Anna's memory.
Arrangements by Kinnick Funeral Home, McClurkin Memorial Chapel, 222 South State St., Girard, OH 44420.
Guestbook Entries
"Our thoughts and prayers are with your family. We have many fond memories. God Bless"
» The Dan Bender Family on April 3, 2014
"Nana, I cannot believe it has been over a month since your departure. You have been on my mind everyday since and miss talking to you. I just want to send you a BIG hug and let you know that you will be within in heart for as long as I live. Love you always!"
» Shannon Kracha on May 7, 2014
"Happy Birthday to You..We all Love you and miss You too! I want be blue it's true, but I am never without you!!! Love you always!"
» Shannon Kracha on May 9, 2014
"Nana, I want to let you know, that you are always in my thoughts. The hard times are always a little easier to deal with cause I know you are right there with me through them. Love always!!"
» Shannon Kracha on May 23, 2014
"Nana my Mom and I have been going crazy over the last few details of the wedding. We know you will be there will all your love and bring the rest of the family, you will all be in our thoughts on the day of celebration. My Mom misses you so much and I know it's for good reason because I don't know what I would do without her. Hugs from us all!!! Love you bunches. Shannon, Nick and most of all Paula."
» Shannon Kracha on September 17, 2014
Sign the Guestbook
---