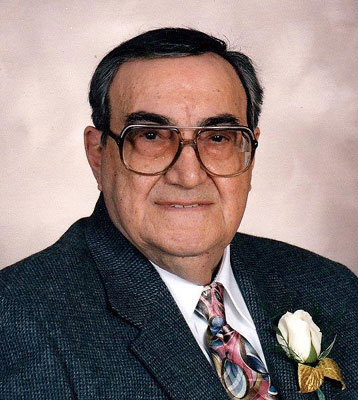 RICHARD J. LOSASSO SR
LIBERTY TOWNSHIP – Richard J. LoSasso Sr., 96, passed away peacefully Tuesday afternoon, Sept. 24, 2013, at his home with his family by his side.
Richard was born March 13, 1917, in Youngstown, a son of the late Vincenzo Diego and Josephine Speziale LoSasso, and was a lifelong area resident.
He was a 1935 graduate of East High School and was the long-time chairman of the class reunion committee. After high school, Richard served in the Civilian Conservation Corps, Camp No. 3517, in Shreve, Ohio, from 1935 to 1936.
Richard started barbering in 1927 as a youth, and became a licensed barber when licensing became an Ohio law in 1933. He was the owner of Acme Barber Shop on Oak Street in Youngstown, and later became owner of the Arco Barber Shop in the McGuffey Mall, upon the demise of his partner Charles "Skinny" Giampetro. He continued operating the barber shop until just a few years ago.
Mr. LoSasso was a U.S. Army veteran of World War II, serving with the 9th Infantry Division in North Africa, and after being injured, was reassigned to Allied Forces Headquarters with General Eisenhower. He later moved on to Signal Corps Headquarters in Caserta, Italy.
Richard was a member of Our Lady of Mount Carmel Church in Youngstown, was a member and past commander of VFW Post, No. 8841, was a member of ITAM Post, No. 3, Sons of Sicily, Avatar Club, 2nd Ward Italian American Club, East Side Civics, Arco Club, Knights of Columbus Council, No. 3144, and the Military Order of the Cooties Pup Tent, No. 31.
Richard leaves two daughters, Jacqueline Watson of Girard and Stephanie DeMain of Holland, Pa.; a son, Richard J. LoSasso Jr. of Mineral Ridge; three grandchildren, Joy (Mike) Newingham of Stow, Ashley DeMain of Washington, D.C., and J. T. DeMain of Philadelphia; five great-granddaughters, Gabriella Elizabeth, Mallory, Makenzie, Maddy, and Gia; a brother, James (Helen) LoSasso of Boardman; and two sisters, Josephine Romandetti of Boardman and Mary Ferko of Berlin Center.
His wife of 65 years, Elizabeth Lepsik LoSasso, whom he married April 14, 1945, passed away April 23, 2010. A son, James R. LoSasso, a brother, Joseph A. LoSasso, and three sisters, Kay Demko, Jenney Pelaia, and Frances Pondilla, also preceded him in death.
Family and friends may call from 5 to 7 p.m. on Friday, Sept. 27, 2013, at Kinnick Funeral Home, 477 N. Meridian Road, Youngstown.
Funeral services will begin at 9:15 a.m. on Saturday at the funeral home, and continue with a Mass of Christian Burial to be celebrated at 10 a.m. at Our Lady of Mount Carmel Church, 343 Via Mount Carmel, Youngstown.
A committal service with military honors will follow at Resurrection Cemetery in Austintown, where Richard will be laid to rest next to his wife.
Mr. LoSasso's family suggests that anyone wishing to make a memorial contribution, do so by donating to Grace Hospice, 7206 Market St., Youngstown, 44512, or to the donor's favorite charity.
Visit kinnickfuneralhome.com to view this obituary and to send condolences online to Richard's family.
Guestbook Entries
God Son
"Dear uncle thank you for the greatest childhood memories. You gave me the first taste of your father's home made wine. Love and respect. The George Stash family"
» George E. Stash on September 26, 2013
Ms.
"I'm so sorry to hear of your Dad's passing. He was a dear friend and buddy to my Dad, Ted Oberman. He was also my sister Gerry's godfather. I remember my Dad and I attending his surprise birthday party years ago. He was a dear "uncle." He will be sadly missed."
» Teddi Oberman on September 26, 2013
God Child
"My condolences to the LoSasso family. Your father had a long and colorful life and will be remembered for his joy for life, a great storyteller with a great sense of humor. As a first cousin to my Mother, Josephine Speziale-Oberman, "Dickie" became my godfather which made me fortunate to be his first godchild and he generously remembered important events in my life. My Dad, Ted, was one of Dickie's regular customers and my brother Bill had his first haircut in Dickie's barber shop. The Ted & Josephine Oberman family cherish many special memories of "Dickie" and Betty. "
» Geraldine (Gerry) L. Oberman on September 26, 2013
Niece in California:
"Please except my heartfelt condolences on the loss of your father. He was one of my favorite people. May the love around you help you through the days ahead."
» Dian Lepsik-Cook on September 26, 2013
"May you RIP Uncle Dick! We will miss you! Linda Kay & Family "
» Linda Kay on September 27, 2013
"Memories of love and friendship are treasures to carry with us always!"
» Ernie and Donna Nespeca on September 28, 2013
"My sympathies to the family of Dick...who cut my father's (Samuel Joseph, who was President of the Star Bottling Company) hair since the 1940s, and my hair when I was a little boy in the 1960s...I visited Dick again with my father in 2006...and the same barber's chair was there..the one I had sat in back in the early and mid-1960s...Dick reminisced about how he had dated my Aunt Sadie and many other times...May he rest in peace...a true Youngstown icon, and who lives in many memories... Deepest condolences from Darrel Joseph and my father, Samuel Joseph, now 90 years old..."
» Darrel Joseph on October 22, 2013
Sign the Guestbook
---