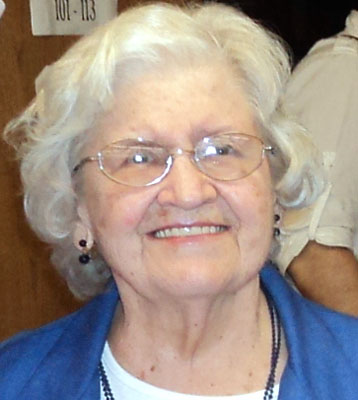 BERNITA ROSE JONES SCURICH
CANFIELD – Bernita Rose Jones Scurich, 84, went to be in her heavenly home on Monday morning, Sept. 23, 2013, passing in her sleep of natural causes.
She was born on Sept. 25, 1928, in Ellsworth, to Henry and Elsie Barnett Jones. 
She married Frank Scurich on Aug. 9, 1958, and remained married until his death in 1995.
Bernita proudly graduated from Canfield High School in 1946, and was employed at Farmers National Bank in Canfield for 43 years, until her retirement. She worked closely with Ethel Fowler during the early years, and continued to welcome many clientele to Farmers. She also served as a Notary Public, was a member of the Ellsworth Historical Society and the Ellsworth Grange.
Bernita's talents and hobbies included undertaking crossword puzzles; entertaining, having hosted many July 4th festivities while a resident on South Broad Street in Canfield; cross-stitching, in particular the numerous Christmas ornaments which remain on display in the homes of relatives and acquaintances throughout the country; playing cards in the Canfield Friendship and Comeback Clubs with her dear, lifelong friends; and most of all, playing the piano, frequenting dance halls, churches, the Ellsworth VFW Fish Fry Dinners, and many living rooms, providing her favorite tunes and hymns.
She was a life long member and Deacon of the Canfield Presbyterian Church, and never missed a Canfield Fair.  
Bernita leaves two children, Amy McSweeney (Jim) of Denton, Texas and Thomas (Kelly) of  Boardman; four adored grandchildren, Brennan and George McSweeney, and Jenna and Jonathan Scurich; as well as many nieces, nephews and cousins. 
She was preceded in death by her sisters, Laura Jones, who died in infancy, and Thelma Terry of Ellsworth.
Her laughter, quick-witted humor, and love of life will be sorely missed by all who knew and loved her.
The family would like to express their sincere gratitude to the many friends and relatives who have looked after Bernita in recent years, the staff at Homecare with Heart, especially the wonderful care and kindness of Pat Grzebienowski and a special thank you to Dr. Charles Wilkins.
The family will receive relatives and friends on Thursday from 4 to 8 p.m. at the Lane Family Funeral Homes, Canfield Chapel, and from 10 to 11 a.m. on Friday at the Canfield Presbyterian Church.
There will be a service of worship and celebration of Bernita's life at 11 a.m., followed by interment at Ellsworth Cemetery.
Gifts may take the form of donations to the memorial fund at Canfield Presbyterian Church, 140 W. Main St. in Canfield.
Guestbook Entries
"Dear Jim and Amy, Tom and Kelly and children Joe and I are so sorry to hear of A. Bertie passing. She was a great lady and we always enjoyed her company and wit. She will be greatly missed ! God Bless Her Joe and Theresa"
» Joe Check on September 26, 2013
"Sending my most sincere sympathy"
» Joyce McClay on September 26, 2013
St. Columba and Holy Family
"Dear Tom, Kelly, and family - Please accept my sympathy at the passing of your mother. May God bless you all during this time. Sincerely, Barb"
» Barb Zorn on September 26, 2013
"Your mother will be greatly missed. She was an exceptional lady who I had the distinct pleasure of knowing! What an awesome lady!"
» Kathy Hagy on September 26, 2013
"Dear Jim and Amy, Tom and Kelly and children Joe and I are so sorry to hear of A. Bertie passing. She was a great lady and we always enjoyed her company and wit. She will be greatly missed ! God Bless Her Joe and Theresa"
» Joe Check on September 26, 2013
"There will be a big hole in the heart of our family with the passing of your beloved mother. She was always fun, upbeat, a joy to be around. May God hold her in the palm of his hand and grant you peace and comfort during this trying time."
» Joann Avery on September 26, 2013
Sign the Guestbook
---