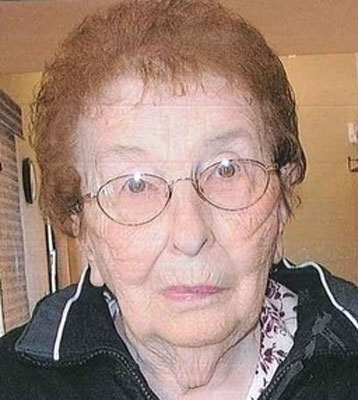 ANNE FAGNANO
NEW SPRINGFIELD – Services will be held Friday at 1 p.m. at the Clemente Funeral Home in New Middletown for Anne Fagnano, 87, who passed away at Caprice Health Care Center on Tuesday morning.
Anne was born Oct. 22, 1925, in Masontown, Pa., a daughter of William W. and Annie Collins Walters.
She came to this area in 1944 and was a homemaker. She worked at McKensy Muffler during World War II and the Fannie Farmer Candy Co. She also wrote various local articles in The Vindicator. She was a pole worker for the Mahoning County Board of Elections in New Middletown. She was a member of the Springfield Local PTA, the Green Twig Garden Club, and the Old Springfield United Church of Christ.
Anne married Louis R. Fagnano on June 15, 1946, and he passed away Feb. 13, 2000.
She leaves two sons, Len W. (Carol) Fagnano of New Springfield and Gregory L. (JoAnn) Fagnano of Canfield; five grandchildren, Brandy Schumaker, Casey Kissel, Ashley Lawrence, Morgan Fagnano, and Joey Fagnano; two great-grandchildren, Avery Kissel and Alice Schumaker; and 11 nieces and nephews.
Anne was preceded in death by her parents; husband; one brother, Wesley Walters; and three sisters, Carolyn Sharpnack, Esther Craft, and Mary Alice Strbak.
Friends may call at the funeral home two hours prior to the service from 11 a.m. to 1 p.m.
Material contributions can be made in her name to the American Cancer Society, 525 North Broad St., Canfield, OH 44406.
Please visit www.ClementeFuneralHomes.com to view this obituary and to send condolences.
Guestbook Entries
"So sorry for your loss."
» Kim Schwartz on September 26, 2013
"Sympathy on the loss of Anne. A life well lived. "
» Pat Meshot Takacs on October 1, 2013
"My sympathies for the loss to all who knew and loved Mrs. Fagnano. "
» Tom Crabtree on October 4, 2013
Sign the Guestbook
---