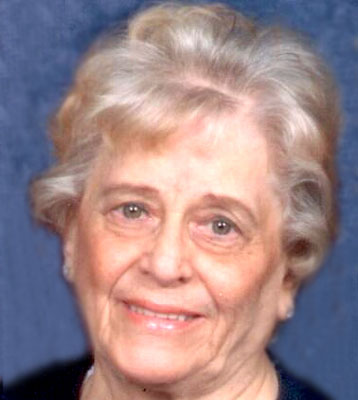 HARRIET L. VOLLMER
YOUNGSTOWN – Funeral services will be held at 11 a.m. on Friday at the Mahoning United Methodist Church in Youngstown, with Pastor Luigi Perez officiating for Harriet L. Vollmer, 81, who passed away Tuesday morning.
Harriet was born, March 5, 1932, in Youngstown, the daughter of Henry and Edna Mae Meeker Berndt.
She was a 1950 graduate of Fitch High School.
Harriet was a bottler for Pepsi Cola Company, retiring in 1989. Before working at Pepsi she worked at Century Foods.
She loved traveling and bowling and belonged to several local leagues and was the secretary for the NALC Ladies Auxillary.
She leaves to cherish her memory, her husband, Eugene, whom she married June 9, 1951; children, Debe Vollmer of Austintown, Dave (Cindy) Vollmer of Cleveland and Karen Vollmer-Hagler of California; grandchildren, Matthew Senchesak of Las Vegas, and Brian, Sara, and Kelsey Vollmer, all of Cleveland; and three sisters, Donna Klenitch of Austintown, Delores Merrill of Washington and Eleanor Lapidus of Youngstown.
She was preceded in death by her parents; twin daughters, Gloria Ann and Linda Jean; nine sisters; and her son-in-law, Brian Hagler.
The Vollmer family has entrusted the care of their loved one to the Wasko Funeral Home in Campbell and will receive friends on Friday from 10 to 11 a.m. at the church.
Visit www.waskofamily.com to view this obituary and send the Vollmer family condolences.
Guestbook Entries
Varkonyi
"My Thoughts And Prayers Are With The Vollmer Family, RIP Aunt Harriot!"
» Nancy on September 19, 2013
"Rest in peace Aunt Harriet."
» Sandy Varkonyi-Childers on September 18, 2013
mumc
"sorry to to hear about harriet. i was glad that i was able visit with in august while i was visiting my sister. she will sadly missed by all who new her. she always had a smile on her face and kind words to say when ever you saw her. cjdamore"
» carol damore on September 19, 2013
"My deepest sympathies and prayers go out to all of you. She will be greatly missed."
» Kathy Gregg Sayre on September 19, 2013
Old Neighbor
"What a great neighbor and a wonderful person. Thank you all for contributing to some of my best childhood memories.My thoughts and prayers are with you all during this difficult time. God Bless"
» Ed Fire on September 19, 2013
"To Dave & family, My deepest sympathy in the loss of your mom. "
» Karen Brogley Krause on September 19, 2013
"You are in our prayers and forever in our hearts"
» David Merrill on September 20, 2013
"Your are in our prayers and forever in our hearts"
» David Merrill on September 20, 2013
"Thoughts and prayers go out to Vollmer family. Rest in peace Aunt Harriet."
» Karen Merrill-Stoner on September 20, 2013
"Thoughts and prayers go out to Vollmer family. Rest in peace Aunt Harriet."
» Karen Merrill-Stoner on September 20, 2013
"First and foremost, GOD we thank you for the blessed years with our wife | mother | grandmother, Harriet L. Vollmer. As well as our current Pastor at Mahoning Methodist Church Luigi Perez for his dedication, love and prayers and our former Pastor Joyce Lawson for her kind words of love and respect for our Mom. We sincerely thank our family and friends/neighbors for the cards, flowers letter and visits to the hospital(s) and Austinwoods Nursing/Rehab facility. We treasure every one of you for showing us that you also felt the blessings of Mom! We are thankful for the overwhelming gift of meals with many delicious fruits, vegetables and desserts. We continually receiving beautiful cards from current and past friends expressing thoughts about our mom with such amazing words of love! Thank you all from the bottom of our hears! Eugene, Debe, Dave(Cindy) & Karen Vollmer Matthew Senchesak, Brian, Sara & Kelsey Vollmer"
» Vollmer Family on October 18, 2013
Sign the Guestbook
---