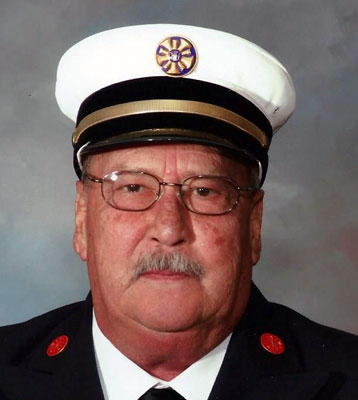 DANIEL R. 'DANNY' MERWIN
AUSTINTOWN – Daniel R. "Danny" Merwin, 71, formerly of Girard, died Monday Sept. 16, 2013, at Hospice House.
He was born Dec. 25, 1941, in Cleveland, the son of the late Howard and Florence Richards Merwin.
He graduated from East High School in 1959 and then enlisted in the Air Force Reserve.
Danny worked for Girard Fire Department for 37 years as a firefighter. He became chief in 1990, before retiring in 2002. After retiring, Danny worked part-time as a starter at Yankee Run Golf Course and also for Holiday Inn Express in Niles in the maintenance department. He was a member of the Retired Firefighters Association, Saxon Club, American Legion in Girard Post No. 235 and the IFH Club in Girard. Danny was an avid golfer, Ohio State Fan and loved spending time with his grandsons and friends.
He is survived by his wife, the former Donna Guerriero, whom he married Oct. 19, 1963; son Daniel R. (Caroline) Merwin Jr., of Jackson, Tenn.; sister Diane (Ray) Wilding of Hubbard; brother Philip (Linda) Merwin of Rock Hill, S.C.; two grandsons, Nicholas and Alexander; and friend of family, Ruth Ann Crain. He also leaves six nieces and nephews; many great-nieces and nephews; and many great-great-nieces and nephews.
Funeral Services will be held on Friday, Sept. 20, 2013, at 11 a.m. at the Blackstone Funeral Home in Girard.
The family will receive relatives and friends on Thursday from 4 to 8 p.m. and on Friday from 10 a.m. until the time of service. Officiating the service will be Pastor Bill Wessner.
Interment will be held at Brunstetter Cemetery in Austintown Township.
Material contributions can be made to Hospice House, 9803 Sharott Road, Youngstown, OH 44514.
The family would like to thank Hospice House for the compassion and care they showed the Merwin family during Danny's time of illness, family friend Ruth Crain, and his nieces Elaine and Eleanor and nephew Joey for all their support, help and love for their uncle.
Visit www.blackstonefuneralhome.com to view this obituary and send condolences to the Merwin family.
Guestbook Entries
"Our sympathies on the passing of Danny. We'll always remember his ever present smile. So very sorry for your loss.Our thought are with you."
» Linda & Bill McKernan on September 18, 2013
NASA Engineer, Ret.
"I am so sorry to hear of Danny's passing, and offer my deepest condolences to his family and especially to his wife Donna, who was one of our gang at the Friday night dances we frequented during our high school years. God Bless you Danny, and thanks for the good times we shared."
» Alan J. (Al) York on September 18, 2013
"My heartfelt sympathy on the passing of Danny. May God bless you Donna during these difficult times. "
» Karen Marian on September 19, 2013
Sign the Guestbook
---