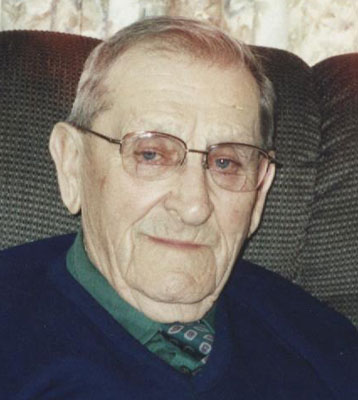 STEPHEN J. DOBOSH
HUBBARD – A Mass of Christian Burial will be Tuesday morning at 10 a.m. at St. Patrick Roman Catholic Church for Stephen J. Dobosh, 96, who died Friday morning, Sept. 13, 2013, at Hospice House.
He was born Dec. 6, 1916, in Pittsburgh, a son of Joseph and Sophie Dobosh, and lived in Hubbard for 90 years.
Mr. Dobosh was a plant foreman for Makenzie Muffler, which later became Oldberg Manufacturing, for 50 years, retiring in 1975.
He was a member of St. Patrick Church in Hubbard, was a past treasurer for the St. Vincent DePaul Society and was a member of the Hubbard Knights of Columbus. Stephen was an elected official for the Hubbard Board of Public Affairs, a member of the Hubbard Democratic Party and the Men's Garden Club.
His wife, the former Mary T. Petrunak, whom he married in 1940 at the Holy Trinity Church in Struthers, died Nov. 15, 1991.
He leaves two sons, Stephen M. Dobosh of Hubbard and William J. Dobosh of Hubbard; four grandsons, Major William J. Dobosh Jr., Alexander M. (Tricia) Dobosh, Andrew J. (Amanda) Dobosh and Brian J. Dobosh; and three great-grandchildren, Jacob, Chloe and Samuel Dobosh.
He was preceded in death by his parents; five brothers, Joseph, Alex, John, William and Frank Dobosh; and four sisters, Rose Dobosh, Elizabeth Sabo, Margaret Gorka and Betty Gervelino.
Family and friends may call today from 5 to 8 p.m. at the Kelley-Robb-Cummins Funeral Home.
Closing prayers will be held Tuesday at 9:15 a.m. at the Kelley-Robb-Cummins Funeral Home.
Interment will be at Hubbard Union Cemetery.
Please visit www.krcummins.com to view this obituary and to send condolences to the family.
Guestbook Entries
"Dear Bill,stephen,& family,Our prayers & sympathy to all of you. We are away but will be thinking of you.See you when we get home. Anne & George Schur."
» Anne on September 16, 2013
Sign the Guestbook
---