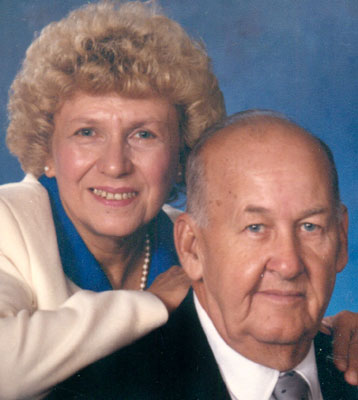 JUNE A. STEVENS
"Together Again"
MCDONALD – June A. Stevens, 86, died Sunday, Sept. 15, 2013, at her daughter's residence where she made her home.
She was born Feb. 1, 1927, in Youngstown, the daughter of the late Fred and Kathryn Hoffman Myers.
June graduated from McDonald High School in 1944 and was a member of the Woodland Park United Methodist Church in McDonald. She operated the Carousal Snack Bar at Southern Park Mall with her husband and also worked as a sales associate for JCPennys at the Liberty Plaza.
She is survived by and will be greatly missed by her children, Randy (Darlene) Stevens of McDonald, Bob (Linda) Stevens of Girard, Gail Fiddler of McDonald and Laurie (Ken) Barber of McDonald, with whom she made her home; sisters Ethel (Maynard) Coles of McDonald, Peg Altaffer of McDonald and Kathy Myers of McDonald; brothers Fred (Eileen) Myers of McDonald, Ted (Evelyn) Myers of Girard and Tim (Pat) Myers of McDonald; grandchildren Wendy (Dave) Greene, Traci (Dan) Daniluk, Chris (Niki) Stevens and Greg Stevens; great-grandchildren Kyle and Josh Butryn, Kaci Greene and Daniel and Rylie Daniluk.
She will also be dearly missed by her dog, Chloe; and many nieces and nephews.
June was her happiest spending time with her family and creating family memories and traditions for all to carry on and cherish in her memory.
The family would like to express their sincere appreciation and thanks to her caretaker, Elana Mitchell.
She was preceded in death by her parents and her husband, Charles Stevens, whom she married May 18, 1946 and who died Dec. 21, 1988.
Funeral services will be held Tuesday, Sept. 17, 2013, at 11 a.m. at the Blackstone Funeral Home in Girard.
Family will receive relatives and friends today from 5 to 8 p.m. and Tuesday from 10 a.m. until time of the service at the funeral home.
Interment will be held at Girard City Cemetery.
Visit www.blackstonefuneralhome.com to view this obituary and send condolences to the Stevens family.
Guestbook Entries
"So sorry for your loss. My thoughts and prayers are with your family. "
» Bev (Kovach) Baker on September 16, 2013
Sign the Guestbook
---