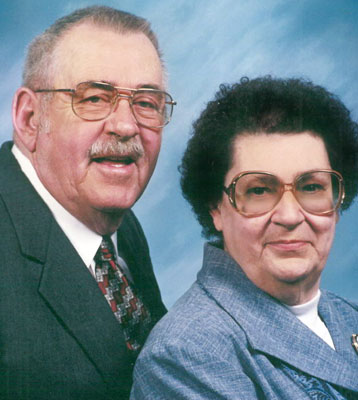 HARRY JAMES DENMEADE
"TOGETHER AGAIN"
STRUTHERS - Harry James Denmeade, 84, died Sept. 15, 2013, at Shepherd of the Valley in Boardman.
Mr. Denmeade was born March 2, 1929, in Youngstown, son of George and Lucille Miller Denmeade.
He worked as a stenciler for Youngstown Sheet and Tube, retiring in 1983. Harry was a member of the Bethel Friends Church and a veteran of the U.S. Navy, having served from 1947 to 1950. He enjoyed woodworking, and his grandson was the love of his life.
His wife, Jackleene M. Denmeade, whom he married Dec. 8, 1956, died Feb. 22, 2007.
He is survived by two daughters, Lisa and Elaine Denmeade, both of Boardman; three sisters, Shirley (Bill) Leck of Struthers, Marion Bator of Austintown, and Jean Wilson of New Middletown; three brothers, Robert (Fran) Denmeade of Valencia, Calif., Donald (Doris) Denmeade of New Middletown, and Ray (Judy) Denmeade of Poland; and one grandson, Cody Adam Denmeade.
Besides his parents and wife, Harry was preceded in death by one son, Jeffrey Denmeade; one sister, Betty Woods; and one brother, George Denmeade.
Funeral services will be held at the Bethel Friends Church, 2771 Spitler Road in Poland on Wednesday at 11 a.m. with Pastor Bobby Murphy officiating.
Friends and family will be received Tuesday from 5 to 8 p.m. and Wednesday from 10 to 10:45 a.m. at the church.
Arrangements are being handled by the Davidson-Becker Funeral Home, Struthers.
In lieu of flowers, the family requests that monetary donations be given to Cody's Therapy Fund.
Please visit www.beckerobits.com to send condolences.
Guestbook Entries
"Doris,& Don I`am so sorry for your Lose"
» Nick Cabuno on September 16, 2013
"Our love and prayers are with you....Harry and Jackie were integral parts of mom and dad's lives...hugs."
» Kimberlee Thornton on September 16, 2013
Sign the Guestbook
---