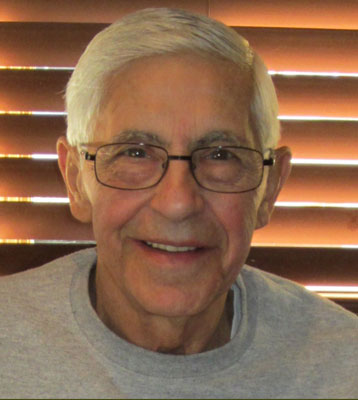 RONALD JAMES DESALVO
BOARDMAN - Ronald James DeSalvo, 75, died Sept. 10, 2013, at St. John's Medical Center in Westlake.
Ron was born Nov. 16, 1937, in Youngstown, the son of Romeo and Susan DeSalvo.
His wife Sandra, whom he married Sept. 21, 1968, died Aug. 21, 2006.
He was a 1955 East High School graduate. Ron worked as a meat cutter for 50 years, primarily for A&P and Sparkle. Ron was a member of St. Columba Cathedral. He was a veteran of the U.S. Army.
He enjoyed golfing, fishing, photography, and Cardinal Mooney football. Ron had a special interest in visiting and photographing covered bridges. He traveled throughout Ohio, Pennsylvania, Indiana and New England with his wife and daughter to appreciate and capture the beauty of these historical bridges.
Ron is survived by one daughter, Christine DeSalvo of Avon; one sister, Bernadine Nicholson of Boardman; sisters and brothers-in-law, Billie and Ron Sicafuse of Poland and Patti and Dan Canter of Burghill; and brother-in-law Rick Schilling of Poland. Ron was also loved by his nieces Sharon Sicafuse, Michele Canter (who preceded him in death), and Dana Nicholson; nephews Mark Sicafuse and Darrell Canter; and great-nephews Daniel, Dillon, and Gabriel Canter.
A prayer service will be held Monday at 9:15 a.m., at the Cunningham-Becker Funeral Home, Poland, followed by a Mass of Christian Burial at 10 a.m., at St. Columba Cathedral. Interment will be at St. John the Baptist Catholic Cemetery in Campbell.
Friends and family will be received Sunday from 4 to 7 p.m. at the funeral home.
Contributions may be made to St. Columba Cathedral for Masses in Ron's memory.
Visit www.beckerobits.com to send condolences.
Guestbook Entries
1955 Class Mate
"Rest in Peace. "
» Lou Conti on September 13, 2013
"I worked with Ron at Sparkle Market where he was a meat cutter, and if was working my way through college. I remember how much he loved high school football and covered bridges. He was a sweetheart of a man. He was crazy about his family. I am sorry to hear of his passing."
» Virginia Barborak on October 3, 2014
Sign the Guestbook
---