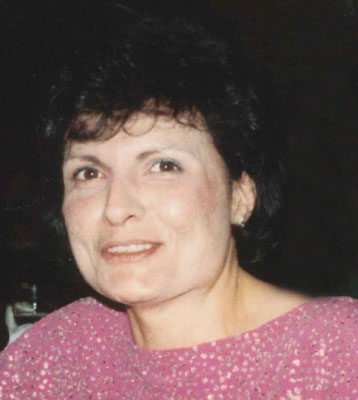 SEVERINA 'RINA' D. DIONISIO
YOUNGSTOWN – On Sept. 4, 2013, Severina "Rina" D. Dionisio, formerly of Farrell, Pa., passed away after an extended illness at the age of 66.
Rina was preceded in death by her mother, Lenina (Giuliani) Dionisio; father, Virginio Dionisio; her uncle, Patrick Gallagher; and sister-in-law, Diane Dionisio, whose kidneys donation extended Rina's life.
Left to mourn Rina's passing is her sister, Connie Dionisio of Farrell; brother, Dominic Dionisio of Erie, Pa.; nephew, Jeffrey Dionisio of Las Vegas; an aunt, Maria Gallagher of Peekskill, N.Y.; cousins, Lia and Patrick Gallagher; and her caregiver and friend, Linda Alexander of Austintown.
Rina was a graduate of Farrell High School and went on to graduate as a registered nurse from St. Elizabeth's School of Nursing. She worked as a nurse at St. Elizabeth Health Center for 40 years. Prior to her illness, Rina was active in the Newman Society. She cherished meetings of the club, a small group of fellow nurses that met monthly for decades. Rina also loved crafting, and she will be remembered for her great cooking.
A memorial service will be held on Saturday, Sept. 7, 2013, at the Immaculate Heart of Mary Church in Austintown at 12:30 p.m.
Contributions may be made in Rina's honor to the Eastern Regional Kidney Foundation, 4822 Market St., Suite 240, Youngstown, OH 44512.
Family and friends may visit www.lanefuneralhomes.com to send condolences.
Guestbook Entries
"Remembrance of Rina brings smiles and joy to my heart. She was a "dinisaur" (as we always teased her) to St. Elizabeth, where we spent years of employment together. She had such great faith in God providing as blessed to her by her extended life from all the adversities she endured. She will be missed but pleasant memories will endure. With sympathy, Claudia Allen"
» Claudia Allen on September 6, 2013
"So very sorry to hear of Rina's passing. Darrell and I have not been in contact with her for years, but she and I were room mates for awhile with some other classmates after graduating from St E's. Our prayers and sympathy to friends and family. Patty and Darrell Perry, Moon Township, PA"
» Patty Shanes Perry on September 6, 2013
Sign the Guestbook
---