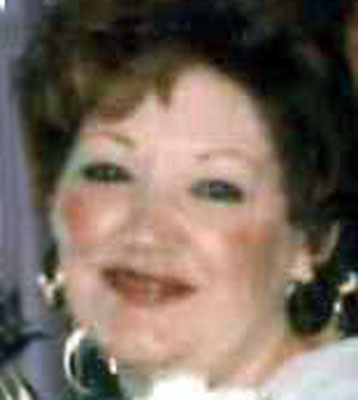 MARY CATHERINE MCCARTHY
AUSTINTOWN – Mary Catherine McCarthy, 71, passed away Sunday evening, Oct. 27, 2013, at her residence, surrounded by her loving family.
Mary was born Sept. 13, 1942, in Ellamore, W.Va., and was the beloved daughter of the late William and Anna Catherine (Stanton) Harris.
Mary lived in the area most of her life, sharing her wonderful personality with everyone she met.
To say Mary was a great mom would be an understatement. She was a devoted mother, grandmother, and great-grandmother. Her family came first. There is nothing she would not do for them.
Mary raised shopping to a whole new level, an art form. She loved to drag her loving companion, Steve Uhrin, everywhere. She could smell out a bargain from miles away. Mary missed her calling. She should have been an interior decorator with her flare of style.
She also had a beautiful voice. If you closed your eyes you would not know if it was Mary or her favorite singer, Patsy Cline.
Mary Catherine is survived by her son, James McCarthy; daughter, Kelli Jo Walton; brothers Tom (Janet) Harris, John Harris and Bill Harris; sisters, Christine Vanpelt, Cindy (Scott) Lauderback, and Karen Kearns; sisters-in-law Becky Harris and Cathy Harris; grandchildren Jamie, Jimmy, Billy, Julie, Justin and Hannah; and great-grandchild, Daniel.
Mary was preceded in death by her parents.
A celebration of Mary's life will be held at the Lane Family Funeral Homes, Mineral Ridge Chapel from 11 a.m. to noon and a brief service at noon.
Interment will follow at Resurrection cemetery.
Family and friends may visit www.lanefuneralhomes.com to view this obituary and to send condolences.
Guestbook Entries
"Karen and family,my deepest sympathy on the loss of your beautiful sister. May she rest in peace. Your friend,Gina DeFrank"
» Gina DeFrank on October 30, 2013
"We are sorry the loss of Catherine "
» Bob and Debbie Anderson Family on October 30, 2013
sister
"To my Dear loving Sister, what a wonderful and kind soul you are. May you rest in peace, I l will always cherish our family memories. You brought so much happiness into my life. I can't ever remember a time without laughter. God Bless You! Kiss Mommy,Daddy and Jerry for me. I Love you Sis. Karen"
» karen kerns on October 30, 2013
"To my sister Catherine,I will miss you dearly with my love that seems to have no end.my dearest gift from GOD was when he made you my sister.may you rest in peace, I love you."
» cindy {harris}louderback on October 30, 2013
"Chris & all of the family, we are so sorry to hear about the passing of your sister. Your family has become our family since our son married into the family. We are praying that God sends all of you comfort during this difficult time. Love & prayers. Delbert & Paula"
» Delbert & Paula Teter on October 30, 2013
Family
"Her loving smile would brighten any room. You and your family will always have a special place in our hearts. We love you all. "
» Felicia, Bobby and Haylee on October 30, 2013
Sign the Guestbook
---