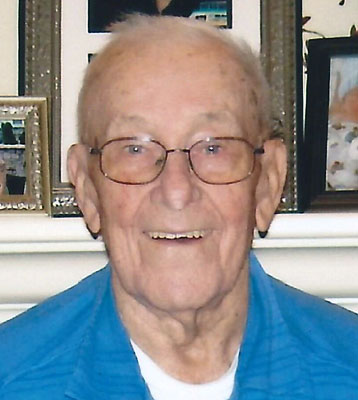 GLEN W. REINHART
BROOKFIELD – Glen W. Reinhart, 95, was greeted in Heaven by his beautiful bride, Ruth at 7:47 a.m. Monday, Oct. 28, 2013, following a sudden illness at home.
Glen was born at home in Niles, on Oct. 12, 1918, a son to Kenneth L. and Helen (Mild) Reinhart Sr.
A 1936 graduate of Brookfield High School, he furthered his education by studying engineering at the Ohio State University. He was drafted to serve our country in the Navy and proudly defended our freedom during World War II, where he achieved the rank of Electrician's Mate 3rd Class. Following an honorable discharge, he found employment at G.A.T.X. in Masury. He dedicated the next 40 years to this company before his retirement. Throughout his career, he continued studying engineering at Youngstown State University.
Glen married the former Ruth E. Couts on Sept. 13, 1940, and together they would spend the next 65 years holding hands.
His memberships included the Cornerhouse Christian Church in Hubbard, Past Master of Jerusalem Lodge No. 19 F.&A.M., and Order of Eastern Star No. 518, both in Hartford, Ohio.
In his spare time, he enjoyed woodworking, golfing, fishing, wintering in Florida, going to breakfast every day after he retired, and traveling in his motor home with Ruth throughout the United States.
Survivors include his daughters, Priscilla Hreha and her husband, David of Titusville, Fla., Glenda J. Reinhart of Masury, Joyce Tice and her husband, Gary of Naples, Fla., and Andrea Herzberger and her husband, Kurt of Masury; his sister, Dorothy Bombeck of Brookfield; his nine grandchildren; his 18 great-grandchildren; and his five great-great-grandchildren.
He was preceded in death by his wife, Ruth, who passed Nov. 12, 2005; by his twin girls, Cora and Helen; by his great-great-grandson, Garin; by his brothers, William and Kenneth Reinhart Jr.; and by his sister, Marjory "Sis" Deichler.
In accordance to his wishes, no calling hours will be scheduled. A private service will be held in his honor and he will be laid to rest at the Brookfield Township Cemetery.
As suggested by his family, material contributions can be made in Glen's memory to the Cornerhouse Christian Church, 6954 Chestnut Ridge Road, Hubbard, OH 44425 or the Village School of Naples, 6000 Goodlette Frank Road, Naples, FL 34109.
Coordination of this tribute for Mr. Reinhart was presented by Daniel Briceland, Owner & Director of the Briceland Funeral Service, LLC, 379 State Route 7, SE, Brookfield, OH 44403.
Guestbook Entries
Sign the Guestbook
---