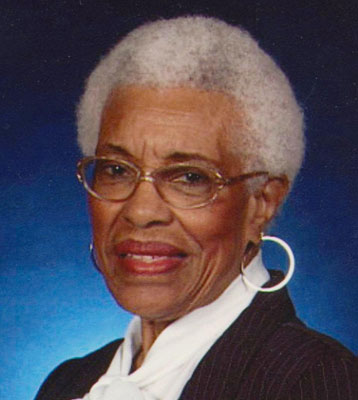 EVELYN W. CALDWELL
YOUNGSTOWN – Services will be at 9:30 a.m. Friday, Nov. 1, 2013, at the Victory Christian Center for Mrs. Evelyn W. Caldwell, 91, who departed this life Wednesday, Oct. 23, 2013, at St. Elizabeth Health Center.
Mrs. Caldwell, lovingly known as "Aunt Nauchie," was born Feb. 23, 1922, in Anniston, Ala., a daughter of William Junks and Frances Thompson, and her stepfather who raised her, Fred Walker.
She was a 1940 graduate of The Rayen School and had worked at the Holiday Inn.
Evelyn was a member of the Victory Christian Center, Donald Lockett VFW Post No. 6488, its Ladies Auxiliary, Food Give Away and held Style Shows for their fundraisers. With her outgoing personality, she was a member of her neighborhood watch, enjoyed dancing, music and being with her loving family.
She leaves to forever cherish her memory, her daughters, Norma Jean Hopkins of Columbus and Margaret S. Gilmer of Youngstown; stepson, Manisee Boswell of Richmond, Va.; six grandchildren, Darrell, Terri, Deitra, Ronald, Nicole, Damon; and a host of great and great-great-grandchildren, nieces, nephews, other family and friends.
Besides her parents, she was preceded in death by her husband, Samuel, whom she married Aug. 23, 1970, and who passed away Aug. 17, 2002; a brother, John E. Walker; a stepson, Ramon Boswell; and two grandsons, Roger Gilmer and Eric Hopkins.
Friends may call Friday from 9 to 9:30 a.m. at the church.
Arrangements entrusted to the L.E. Black, Phillips & Holden Funeral Home.
Guestbook Entries
Niece
"I was so sad to learn of the passing of Aunt Nauchie. Aunt Nauchie was one of the most Classy and strong women that I could ever know! I will always cherish how she would always address me as Johnny Walker number 2 when I would see her and remember her wonderful spirit, smile and witty sense of humor and personality! I had the pleasure to speak to her on the phone before her health went down. I remember being very cautious when I asked for her and I said "Aunt Nauchie do you know who this is"? She responded in that Aunt Nauchie way..."Johnny Walker number 2 I'm old not senile! LOL...I cracked up laughing and we had a very good talk. My heartfelt condolences are extended to the entire family. Aunt Norma, Margaret, my cousins Darrell & Teri, Deitra and everyone, Thank you for sharing such an incredible woman with me and everyone else. She will forever be endured and missed. With Sincere Love always....Tanya and Madison Walker"
» Tanya Walker on October 30, 2013
"To Norma Hopkins and Family, Wishing you moments of peace and tender reflection. Sending you heartfelt sympathy. Jim and Donna Comer"
» Donna Comer on October 31, 2013
Sign the Guestbook
---