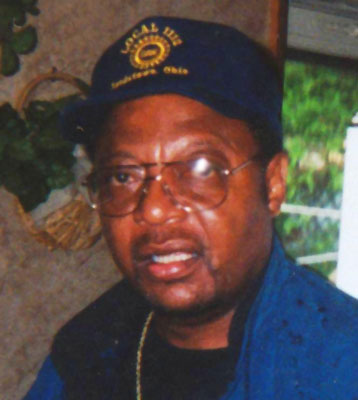 EDWARD K. STEWART
YOUNGSTOWN – Services will be Saturday, Nov. 2, 2013, at 10 a.m. at the L.E. Black, Phillips & Holden Funeral Home for Mr. Edward K. Stewart, 65, who departed this life Saturday, Oct. 26, 2013, at his home.
Mr. Stewart, loving known as "Frog," was born July 25, 1948, in Youngstown, a son of Ned and Eunice Payne Stewart.
He was a 1967 graduate of South High School.
He had been employed with General Motors Lordstown for 34 years, retiring in 2005. He was a faithful member of the Pentecostal House of Prayer in Farrell, Pa. and UAW Local 1112. He enjoyed sports and was an avid fan of the Cleveland Browns, Cleveland Indians and the Cavaliers. He also found enjoyment in his fleet of automobiles, trucks, and motorcycles.
He leaves to forever cherish his wonderful memories, his wife, the former Sherryl Burke, whom he married Jan. 6, 1968; five children, Kevin Burke of Seattle, Eunice Stewart Bradley of Youngstown, Edward (Vivian) Stewart Jr. of Fairborn, Ga., Aaron (Sheila) Stewart of Peachtree City, Ga., and Kimberly Stewart of Columbus; four brothers, Walter (Victoria) and Willie James Stewart, both of Youngstown, Jeffrey Harris of Houston and Wendall Stewart of Toledo; four sisters, Betty Owens of Pensacola, Fla., Carolyn Perry of Mobile, Ala., Gwendolyn (Anthony) Calhoun of Franklin, Pa. and Tina Stewart of Cleveland; 10 grandchildren; nine great-grandchildren; an aunt, Vera (Bill) King of Silver Springs, Md.; and a host of nieces, nephews, other family and friends.
He was preceded in death by his father, Ned Stewart; mother and stepfather, Eunice and Earnest Streets; and mother-in-law, Eloise Gamble Burke.
Friends may call Saturday from 9 to 10 a.m. at the funeral home.
Guestbook Entries
Akron, Ohio
"To the steward family, may God bless and keep you in your time of need."
» Barbara Moore on October 30, 2013
"Its hard to believe my cousin is gone. Seems like yesterday he was buying me candy so I wouldn't tell Aunt Eunice what he was up to. Our grandfather Walter Payne always told us to live life but remember that Paynes stick together. Edward made Granddad proud."
» Rhonda Payne Hunt on October 30, 2013
Sheryl and Family
"Sorry for your loss.Keeping you in our prayers."
» Diane Parkman -Clark &Al on October 31, 2013
"To the Stewart family. We are so sorry for your loss. Mr. Stewart always had a smile on his face and was always pleasant to talk to. May God rest his soul and may God give you all the strength to deal with this difficult time. God bless."
» The Al-karain family on November 2, 2013
Sign the Guestbook
---