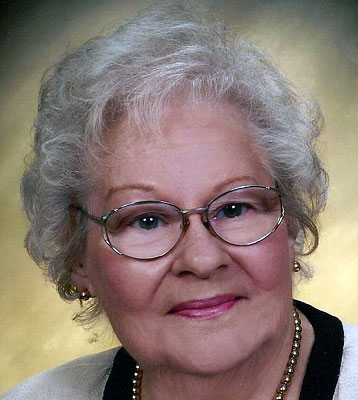 EDNA 'JOYCE' FAST
POLAND – Edna "Joyce" Fast, 88, passed away Sunday, Oct. 27, 2013, at Assumption Village following an extended illness.
Joyce was born on Feb. 20, 1925, in Youngstown, the daughter of Adolph and Alberta (Huish) Hilles. 
She graduated from Boardman High School in 1943.
Joyce married Peter A. Fast Jr. on July 18, 1946. 
She worked at Republic Steel in the accounting office, and later would work as a mail clerk at the Postal Church. 
She was a member of the Poland United Methodist Church, and was active in the singles club of the church. She was a member of the Garden Club, and was a former volunteer at Shepherd of the Valley Assisted Living. Joyce enjoyed country-western line dancing in her earlier years, and spending time with her family.
Joyce leaves to cherish her precious memory, one daughter, Dianne (Howard) Esposite of New Middletown; three sons, Peter (Cynthia) Fast of Huntsville, Ala., Paul (Barbara) Fast of Hampton Cove, Ala., and Mark (Angela) Fast of Canfield; four grandchildren, Brian (Jennifer) Fast, Tony (Sara) Esposite, Sarah (Rob) Ferguson, and Becky Melone; and four great-grandchildren, Kacey and Nicholas Fast, Isabella Melone, and Alexandra Esposite.
She was preceded in death by her parents, Adolph and Alberta (Huish) Hilles; her husband, Peter, who passed away Jan. 13, 1985; and her sister, Winifred.
Services will be held at noon on Saturday, Nov. 2, 2013, at the Seederly-Mong and Beck Funeral Home in North Lima, 11500 Market St.
The family will receive friends for two hours prior to the service at the funeral home, from 10 a.m. to noon on Saturday, Nov. 2, 2013.
In lieu of flowers, the family requests that contributions may be made to the Wounded Warrior Project, P.O. Box 758517, Topeka, KS 66675.
The Seederly-Mong & Beck Funeral Home in North Lima has been entrusted with the arrangements.
Family and friends are invited to visit www.seederly-mongandbeck.com to sign the online guestbook or to send private condolences.
Guestbook Entries
« Be the first to sign EDNA 'JOYCE' FAST guestbook.
---